Carbon Neutrality
Point!
Carbon Neutrality is striking a balance between the emission and absorption of greenhouse gases, top achieve a virtual state of zero carbon emissions overall.
The Toyota Tsusho Group will accelerate initiatives for achieving carbon neutrality so that we can help realize a sustainable society and fulfill the mission of "passing on a better global environment to the children of the future."
The Toyota Tsusho Group's Initiatives for Achieving Carbon Neutrality
We will drive the achievement
of carbon neutrality,
focusing on our
five
areas of strength
Renewable Energy &
Energy Management
Hydrogen &
Alternative Fuels
Resource Circulation & 3Rs
Carbon Neutrality Strategy Map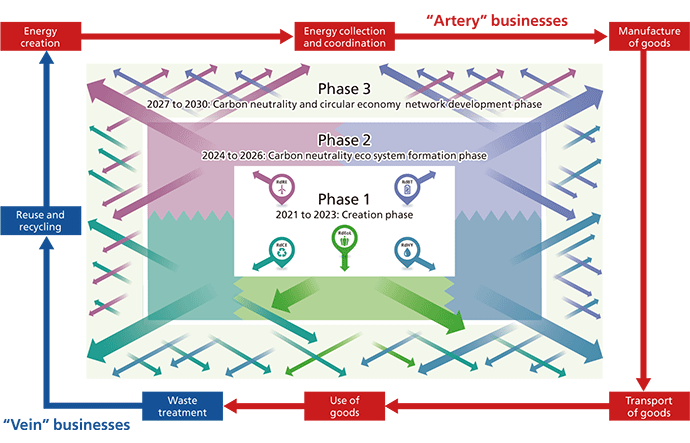 The Toyota Tsusho Group is involved in businesses that support the circular economy throughout each stage of the industrial lifecycle including energy creation, energy collection and coordination, manufacturing, transportation and use of goods, waste processing, and reuse and recycling as part of its initiatives to contribute to the transition to a decarbonized society. Based on the growth strategies envisioned in 5 areas, each WG will expand its business and accelerate the achievement of carbon neutrality.
Reduction Targets
Carbon neutrality by 2050
Reduction in greenhouse gas emissions
by 50% below 2019 levels by 2030
Scope of application: Parent company and domestic/overseas consolidated subsidiaries (Scope 1 and Scope 2)
*For Scope 3, we are promoting concrete actions to reduce greenhouse gas emissions in the value chain, in cooperation with our suppliers and customers
Investment Strategy
By 2030, Toyota Tsusho will invest 1.6 trillion yen scale by 2030 to reinforce businesses moving towards carbon neutrality
Renewable energy and energy management
Hydrogen and alternative fuel
Resource circulation and the 3Rs*
Toyota Tsusho Information Related to Carbon Neutrality
Carbon Neutrality-related Press Release
Projects that Contribute to Carbon Neutrality
Carbon Neutrality-related Website Content