Africa
Point!
With a rapidly growing middle class and a younger demographic composition, Africa has been called the "final frontier" and is attracting global attention for its potential growth.
Toyota Tsusho Group is creating businesses based on its "WITH AFRICA FOR AFRICA" philosophy, with the long-term view of cultivating deep local roots and growing with local communities. In the fiscal year ended March 2022, the revenue (sales) of the African business reached 1 trillion yen for the first time.
Contribute to Africa's economic growth and industrialization based on a philosophy of "WITH AFRICA FOR AFRICA"
Respond to the expanding middle class, with the goal of establishing the leading presence in Africa.
Grow with African and other developing countries, and endeavor to resolve social issues through business operations
We undertake local infrastructure and industrial development, job creation, and other measures through our automotive and other business activities to resolve social issues in developing countries in Africa and other regions. In Kenya, we worked as a strategic business partner in a national project aimed at supporting realization of the country's national vision. We used the results as a pilot model to promote the autonomy of local residents and to support the growth of the Toyota Tsusho Group. Those initiatives included development of basic infrastructure for better living environments and provision of opportunities for occupational training.
Main Businesses
| | |
| --- | --- |
| Mobility | Automobile sales and after-sales services, used car sales, small- and medium-scale vehicle assembly, construction and agricultural machinery import, wholesale, and leasing throughout Africa, automobile production support, local parts production, distributor businesses in South Africa, and next mobility/MaaS businesses through investment in start-ups |
| Healthcare | Wholesale of pharmaceuticals mainly in western Africa and production of pharmaceuticals in North Africa |
| Consumer | Manufacture and wholesale of consumer goods (cosmetics, beverages, etc.), shopping mall and supermarket development and operation, and agricultural businesses including fertilizer production and sales |
| Infrastructure | IT businesses including system development, integration, and maintenance and infrastructure businesses including port development and renewable energy |
Value Creation Business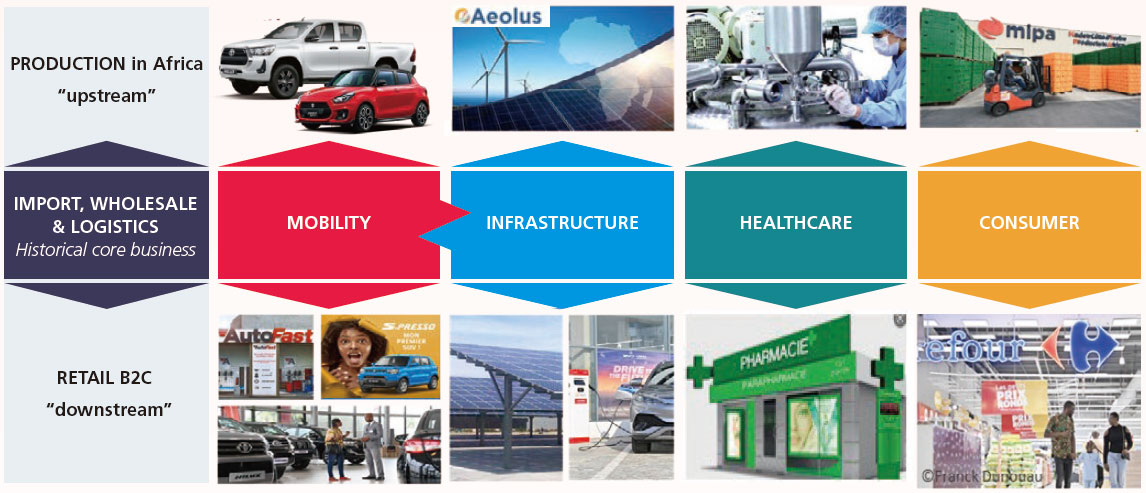 Toyota Tsusho Key Sustainability Issues's Key Performance Indicator
Quantitative KPIs
Results for the fiscal year ended
March 31, 2021
Target for the fiscal year ending
March 31, 2023
Target for the fiscal year ending
March 31, 2024
(Change from the fiscal year ended March 31, 2020)

Sales of automobiles were adversely affected by the COVID-19 pandemic in the first half but recovered in the second half.
Our healthcare business remained solid.
Qualitative KPIs
New investment in developing countries including countries in Africa
Support healthcare infrastructure including local pharmacies and hospitals (approximately 6,000 locations) through pharmaceutical wholesaling in 24 African countries and pharmaceutical manufacturing in Morocco and Algeria
Operate the international terminal business at Wattay International Airport in Laos
Contribute to improving standards of living and household incomes through the off-grid business (distributed power sources) using solar power and storage batteries in non-electrified regions of Kenya
Contribution to the resolution of social issues through Mobility 54 Investment SAS.
Toyota Tsusho Information Related to Africa
Africa-related Press Release
Projects that Contribute to Africa
Africa-related Website Content