Stories of Our ProjectsDomestic
The Challenge to Realize a Recycling-based Society by Turning Everyday Materials into Resources
Effective utilization and reuse of resources is one way to achieve both the reduction of environmental impact and promotion of efficient economic activities. The Toyota Tsusho Group will contribute to the realization of a recycling-based society (circular economy: CE) by further refining its metal recycling business, which it has been expanding in the automotive field, and by taking on the challenge of recycling plastics.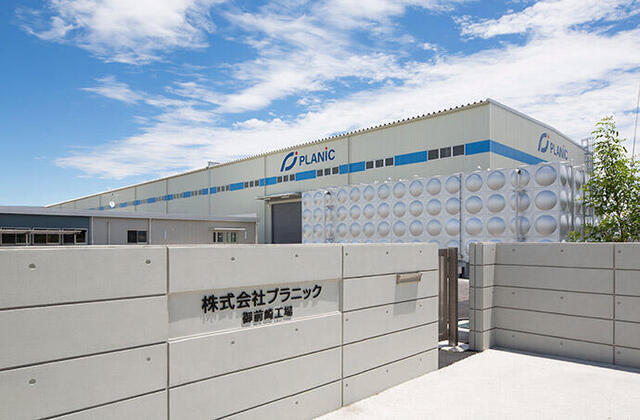 Problems Surrounding Plastic Waste Treatment That Hide Behind Convenience
For its high flexibility in molding in terms of color, shape, and durability, plastic is used in a wide range of applications, such as containers, PET bottles, and components for automobiles and home appliances. Today, plastic has become an indispensable part of our daily lives.
In Japan, 9.63 million tons of plastic was produced in 2022, 8.41 million tons was used, and 8.22 million tons was disposed of as plastic waste-in other words, thrown away as trash.
However, the challenge lies in the treatment of a large amount of plastic waste. It is estimated that 150 million tons of plastic waste is floating in the ocean as a result of untreated plastic waste flowing in through rivers and other channels. Such plastic waste affects the fishing and tourism industries, and is said to cause economic losses of 13 billion dollars per year worldwide.
Alternatives to Burning Plastic Waste Are Key
Companies and Individuals Are Taking Action to Solve the Plastic Waste Problem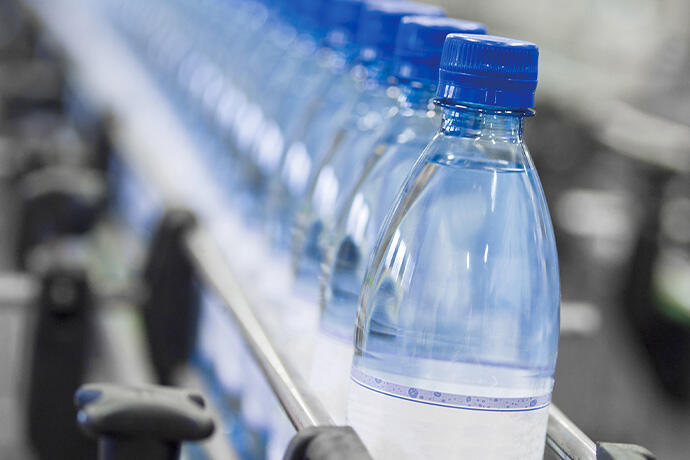 In Japan, 86% of all plastic waste generated is recycled. While this number seems high, most of it is done through thermal recycling, a process of converting waste into heat or other energy sources through incineration.
Furthermore, a large portion of plastic waste is exported overseas for material recycling, a method that uses waste as raw material. Since plastics use naphtha (crude gasoline) as the main raw material, the incineration of plastics generates CO2. Thus, it is important to adopt methods other than thermal recycling in order to achieve carbon neutrality.
In 2020, the Japanese government established an interministerial Resource Circulation Strategy for Plastics to address issues such as marine plastics and CO2 emissions. In April 2022, the Act on Promotion of Resource Circulation for Plastics came into force with the aim of promoting the 3Rs (Reduce, Reuse, Recycle), with the addition of Renewable in all aspects of design, manufacturing, sales, and disposal for plastic products.
Such trends are becoming more prevalent in our society, with the private sector and individuals also taking steps to make more effective use of plastic. Using reusable shopping bags and replacing plastic straws with paper straws are such examples. Today, there is growing interest in horizontal recycling, a process that turns an end-of-life product back into its original product. PET bottles are a prime example of horizontal recycling.
It is important to promote alternatives to incineration, such as resource circulation within the country and horizontal recycling.
Strength in Recycling for the Automotive Field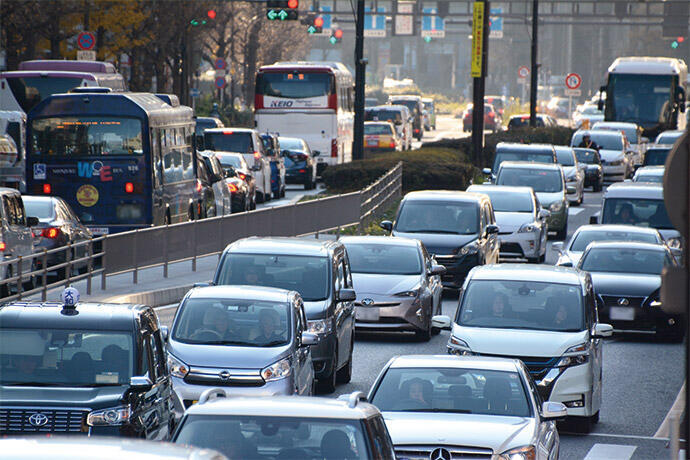 The Toyota Tsusho Group prioritizes the effective use of resources and continues to promote recycling. This commitment dates back to the 1970s, at the dawn of motorization, long before the plastics problem became a major topic.
For example, the Group established an automotive recycling company, Toyota Metal Co., Ltd. in 1970. The company is engaged in breaking down end-of-life vehicles (ELVs) and sorting scrap metal into ferrous and nonferrous scraps. Currently, the company also offers design proposals for easily recyclable vehicles through Japan Vehicle Recycling (commissioned by Toyota Motor Corporation).
Furthermore, the Group promotes the 3Rs (Reduce, Reuse, Recycle) in its recycling business through companies such as Toyota Chemical Engineering Co., Ltd. (established in 1973), which is engaged in intermediate processing of industrial waste, and Toyotsu Recycle Corporation (established in 1985), which is engaged in the recovery of rare metals from ELVs. The Group has also been establishing a recycling value chain and resource recycling model for the automotive industry overseas through combining the businesses and functions of each of its companies in North America, Europe, China, South Africa, and other regions.
Driving the Circular Economy by Leveraging Experience and Knowledge
The Toyota Tsusho Group is leveraging the network it has developed over the course of its aforementioned history, as well as implementing reverse engineering to apply the knowledge it has gained from the recycling business to the design process of manufacturing. Through this process, the Group aims to become a leading circular economy (CE) provider that drives a recycling-based society/CE field.
As efforts to achieve carbon neutrality (CN) are advancing around the world, the Group has made achieving CN a top priority in its company-wide initiatives under the slogan of passing down a better global environment to the children of the future. We have established five areas (see below) with strengths unique to the Group. By including resource recycling and the 3Rs as one of these areas, we are working to further promote resource recycling while refining the strengths required to become a leading CE provider.
In this way, we leverage the Group's accumulated experience in resource recycling and are beginning new initiatives aimed at recycling plastics as well as everyday materials, such as PET bottles and clothing.
Five Areas of Focus for Achieving CN
We will drive the achievement
of carbon neutrality,
focusing on our
five
areas of strength
Renewable Energy &
Energy Management
Hydrogen &
Alternative Fuels
Resource Circulation & 3Rs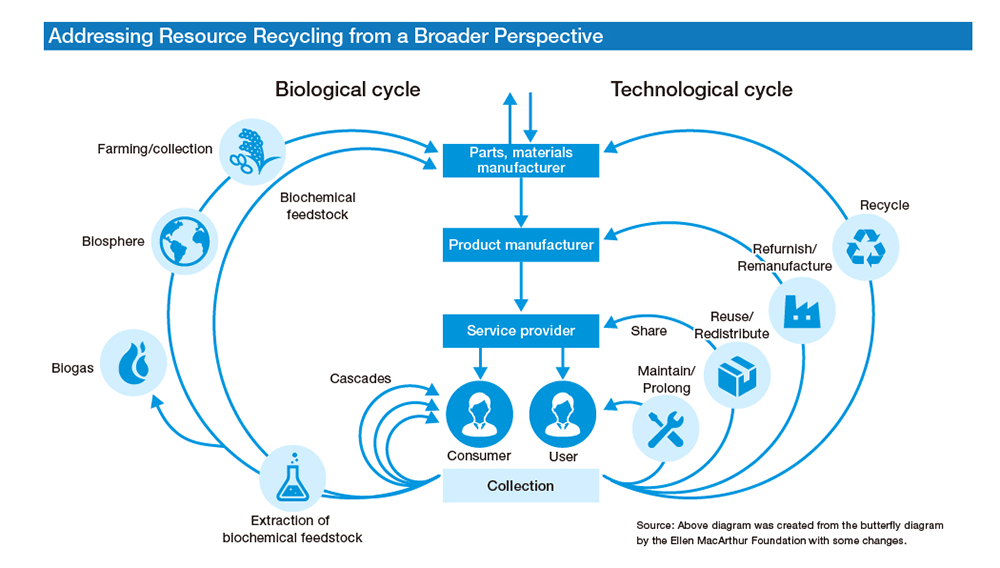 Recycling Used Plastics with First of its Kind Technology in Japan at One of the Largest Plants in Japan
Omaezaki-shi, Shizuoka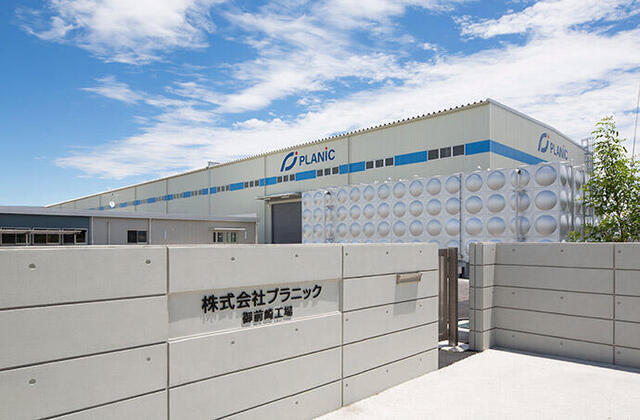 There are several types of plastic materials, such as polypropylene and polyethylene, and it is necessary to sort the materials for recycling. However, plastic waste collected for recycling is mixed plastic, which contains several types of resins, and it is difficult to sort this waste. Therefore, material recycling of plastics has not been implemented, and the waste has been processed by thermal recycling.
In order to perform material recycling of plastic materials that were previously recycled by thermal recycling, the Toyota Tsusho Group has established one of the largest plastic recycling plants in Japan in Omaezaki, Shizuoka.
The plant, which began full-scale operations in October 2022, is operated by K.K. Planic, a joint venture established by Veolia Japan K.K., Kojima Sangyo Co., Ltd., and Toyota Tsusho Corporation. Planic collects used plastics from automobiles and home appliances, as well as packaging materials, used pallets, and containers collected from logistics centers and shopping centers, and recycles them as plastic raw materials.
Planic has concluded a licensing agreement for technology with Galloo Plastics S.A., which owns "car-to-car recycling" technology for plastics, and has developed a recycling method that uses advanced gravity separation technology for the first time in Japan. Polypropylene, polyethylene, polystyrene, and ABS are processed into flakes and pellets to produce high-quality recycled plastics that can be used as raw materials for automobiles, home appliances, daily necessities, and logistic materials to achieve CE.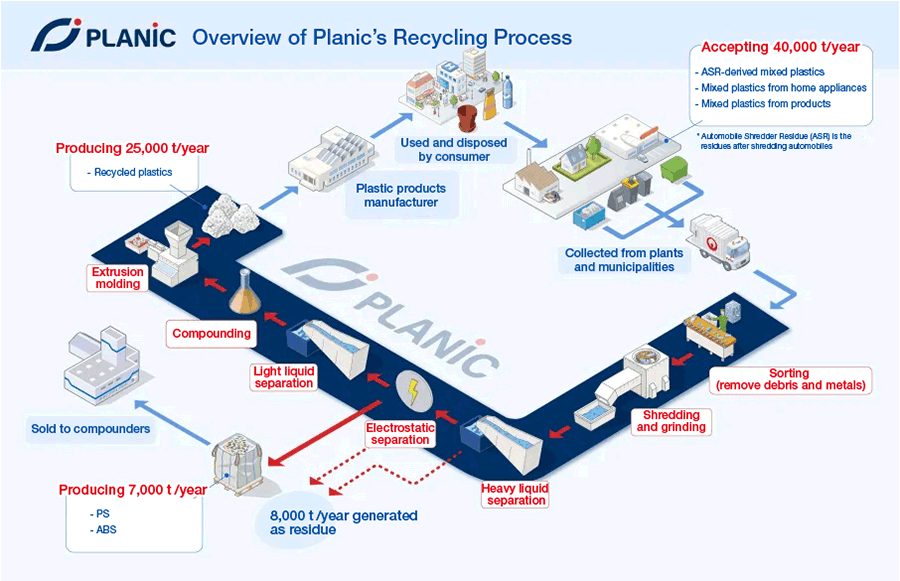 Operating Horizontal Recycling Plant to Turn Used PET Bottles Back Into New PET Bottles
Hino-cho, Shiga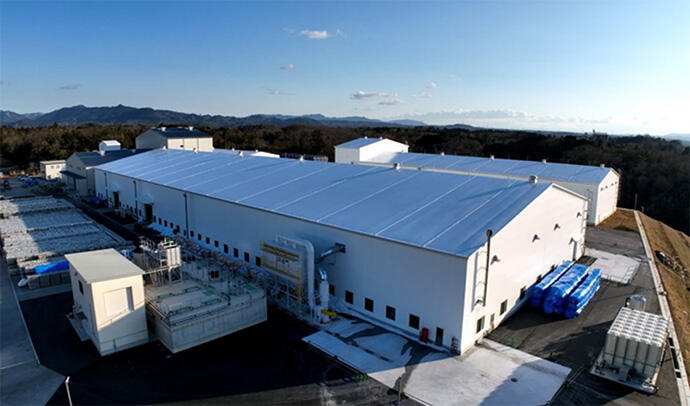 The Toyota Tsusho Group is actively involved in the horizontal recycling of PET bottles, a field closer to our daily loves.
In Japan, 96.7% of all PET bottles sold are collected, and 88.5% are recycled in Japan or overseas (98.0% effective utilization rate including heat collection) (FY2020). However, most of them are currently used as food trays, polyester cotton, and other fibers. In order to establish the CE for PET bottles, it is necessary to increase the rate of bottle-to-bottle recycling, which is horizontal recycling of turning used bottles into new bottles.
In order to solve this problem, we established Toyotsu PET Recycling Systems Co., Ltd. with Utsumi Recycle Systems Inc. and Chuo Warehouse Co., Ltd. We have constructed a horizontal PET bottle recycling plant in Hino-cho, Shiga. The plant, which began operation in phases in 2021, recycles collected PET bottles and produces pellets, the raw material used to make PET bottles for beverage use. Once the plant is in full operation, it will be able to produce approximately 40,000 tons of recycled PET resin for beverage bottles annually, thereby evolving the PET bottle recycling model.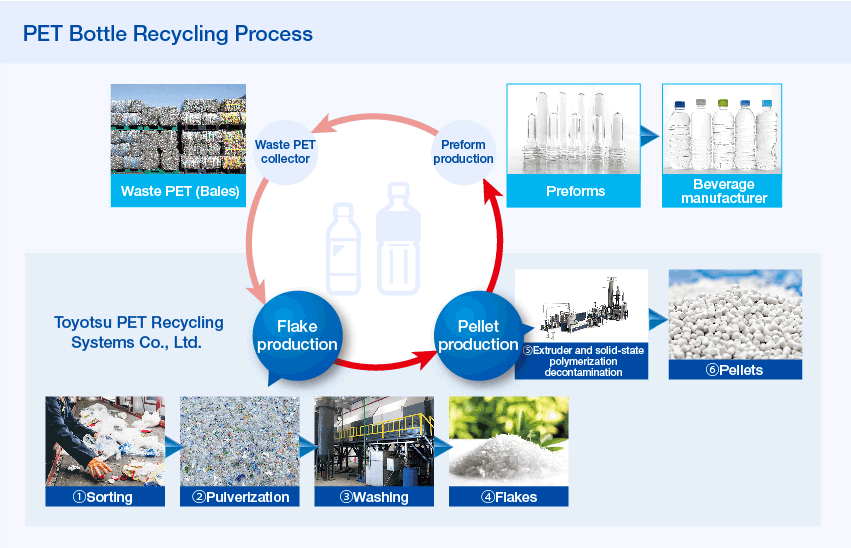 Initiative to recycle other materials
Aiming to Replace Paper and Plastic with Horizontal Recycling of Aluminum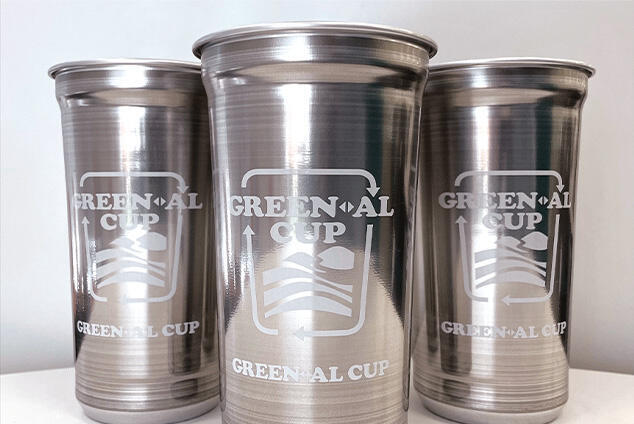 Transformation through Recycling in the Apparel Industry with Continued Mass Production and Mass Consumption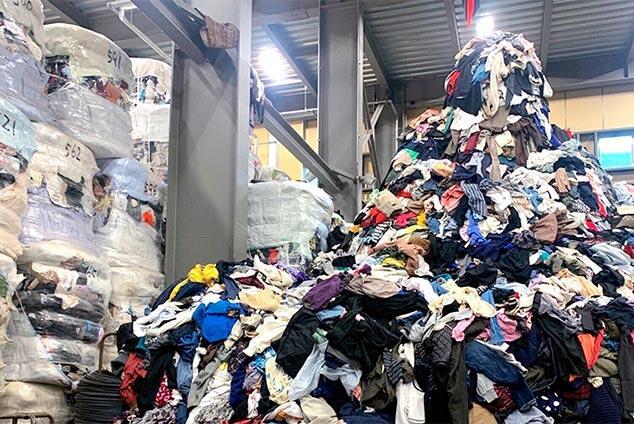 Promoting Resource Recycling from Two Perspectives: Environment and Business
The Toyota Tsusho Group has identified the Circular Economy, in which waste is recycled into resources for production, as one of its four strategic priorities in its Mid-Term Business Plan, as a growth strategy. As a global general trading company involved in manufacturing, we believe it is our important mission to build a recycling model in all areas by securing resources in nature, stably supplying them, and reproducing them, thereby reducing the environmental impact of our operations.
In addition to promoting and evolving our recycling business in the automotive field, where we have a rich experience, we will continue to aim to be a leading CE provider that realizes CN while being actively involved in the conversion of disposed everyday materials into resources.

December 20, 2022