Stories of Our ProjectsDomestic
Promoting Business to Solve Issues in the Rehabilitation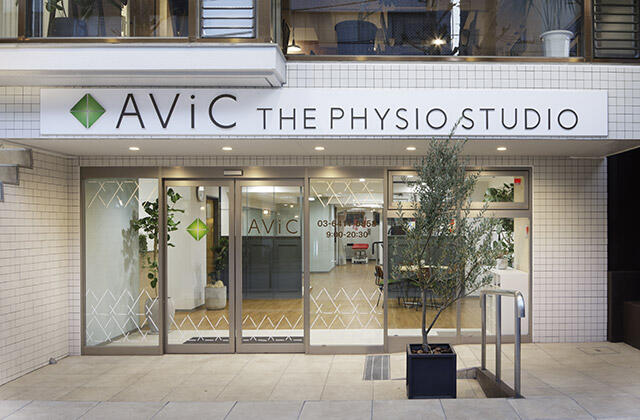 1. Aiming to Solve Problems in the Medical Care and Rehabilitation Environment in Japan
Demand is currently growing rapidly for rehabilitation support services for people suffering from the effects of cerebrovascular diseases, Parkinson's disease such as cerebral stroke, and orthopedic diseases in Japan. However, there are limits to the number of days patients can receive rehabilitation support under health insurance and limits to the quality and quantity of rehabilitation support people can receive under nursing-care insurance. As a result, it is said that there are many "rehabilitation refugees" who are unable to receive satisfactory rehabilitation support.

With this background, Toyotsu All Life established AViC THE PHYSIO STUDIO (AViC), a custom self-pay rehabilitation facility and entered the self-pay rehabilitation support service business.
2. Features of our new facilities (AViC)

The name "AViC" comes from the Latin saying "Amat Victoria Curam" (Victory loves effort).
AViC will provide rehabilitation support services that not only help patients recover from the effects of cerebrovascular diseases (cerebral stroke) and orthopedic diseases Parkinson's disease but also help patients achieve personal goals for themselves.
Custom rehabilitation support services made possible only with self-pay facilities
Rehabilitation goals for individuals are established through counseling with therapists (physical therapists/occupational therapists) who have deep clinical and research experience. These therapists create the optimal rehabilitation plan for each person based on an assessment of the status of activities of daily living and a high-skilled assessment of the condition of the brain, nerves, bones, and joints.
Rehabilitation environment well equipped with the latest devices and equipment
Our facilities have a broad array of the latest rehabilitation devices and equipment, such as mediVR Kagura (VR rehabilitation assessment equipment), non-weight bearing treadmills, bikes for mild cognitive impairment care, Redcord (suspension training), as well as many other assessment devices that ensure objectivity.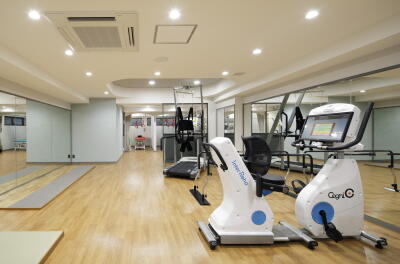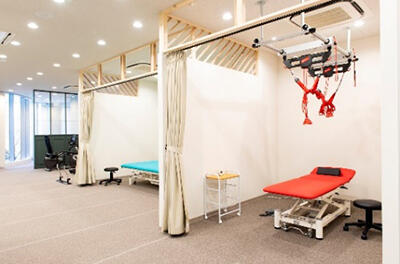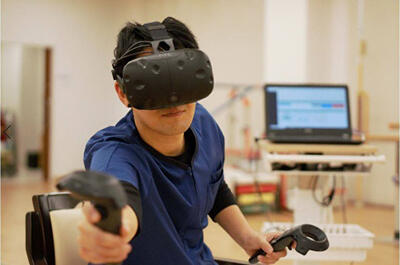 3.Future development of business
Toyotsu All Life will promote the self-pay (not covered by health insurance) rehabilitation support service business, which is attracting attention as a new option designed to solve issues in the rehabilitation environment. We will provide rehabilitation of sufficient quality and quantity based on scientific evidence to people that need rehabilitation, with the aim of providing improvements to functional exercise capacity and activities of daily living, as well as improvements to quality of life.
In the medical massage house call business, we will support the maintenance and improvement of the physical functions of people who have difficulty walking or who are bedridden, as well as the maintenance and improvement of their activities of daily living and quality of life through the operation of treatment centers.
4.Overview of each facility
Oyamadai Center
Nagatsuda Center
Nihonbashi Center
Funabashi Center
Location
1F, Joy Oyamadai, 3-9-10 Oyamadai, Setagaya-ku, Tokyo
1F, Bell Demeure II, 5-2-6 Nagatsuda, Midori-ku, Yokohama-shi, Kanagawa
2F, Luminous, 15-19 Nihonbashi Kodenma-cho, Chuo-ku, Tokyo
301 Melfare Funabashi, 6-1-3 Honcho, Funabashi-shi, Chiba
Access
A four-minute walk from Oyamadai Station of the Tokyu Oimachi Line
A two-minute- walk from Nagatsuda Station of the JR Yokohama Line/Tokyu Denentoshi Line
A two-minute walk from Kodenma Station of the Tokyo Metro Line
A two-minute walk from Funabashi Station of the JR Sobu Line
Business hours
9:00 - 19:00
Closed on the third Tuesday of each month
10:30 - 21:00
Closed on the third Tuesday of each month
Business description
Operation of self-pay (not covered by health insurance) rehabilitation support service centers
2019年12月01日