Stories of Our ProjectsOverseas
Fueling Kenya's Economy with Geothermal Power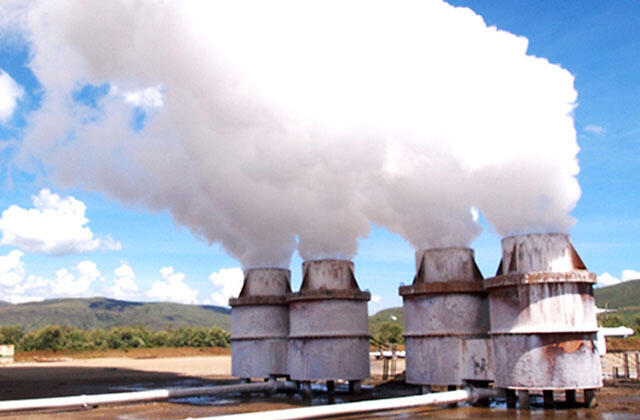 Keeping national growth on track with stable power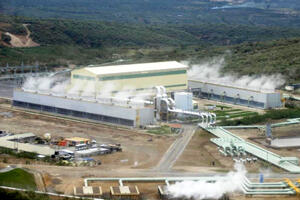 Africa is a continent of more than 1 billion people. It's been called the "last frontier" because of its abundant natural resources and emerging middle class. In recent years, the continent's annual economic growth has hovered around 5%*1.
Electric power is a vital component of economic growth. African countries know this only too well, as most suffer from chronic shortages. In fact, the instability of power supplies has become an obstacle to continued growth. Kenya, which has enjoyed surging economic expansion, has traditionally depended on hydroelectric power. The nation's rivers, however, are not large enough to generate sufficient amounts of power and the dry season creates large fluctuations in power availability. To bridge the gap between supply and demand, Kenya has imported oil to power diesel generators. But this has proved to be only a stopgap measure, and amid exorbitant costs, the country still faces unstable supplies of power so critical to its future development.
A beacon of hope on Kenya's vast terrain
With the hope of solving these challenges, Kenya's national power company, Kenya Electricity Generating Company Ltd., has been building power plants in the Olkaria region about 120 km from the capital of Nairobi. The region sits atop the Great Rift Valley*2, which offers an ideal geologic structure for power production. The first power plant began operations in 1981, and development has continued since. In 2011, Toyota Tsusho and Hyundai Engineering Co., Ltd. of Korea jointly received an order to construct a 280-megawatt plant in the region. The companies teamed up with steam turbine generator manufacturer Toshiba Corporation to complete the plant in January 2015. With the new plant, Kenya generates a total of 480 megawatts of power from geothermal sources.
Geothermal power plants are powered by hot, highly pressurized underground water*3(steam) heated by magna under the Earth's volcanic zone. The biggest advantage is a stable supply of power unaffected by weather conditions or daylight. The new plant is Africa's largest-ever in terms of power output, stably supplying some 20% of Kenya's total power output. Experts believe Kenya has some 10,000 megawatts*4of untapped geothermal power resources, promising expansion of these plants in the future.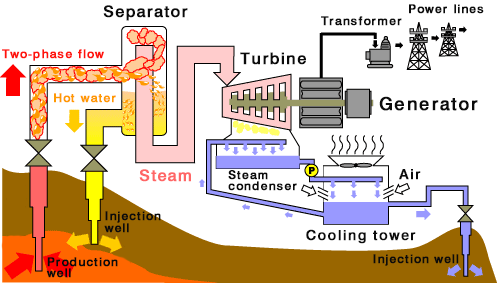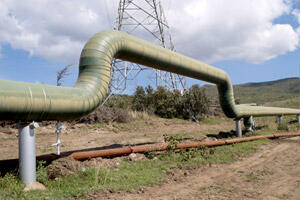 Geothermal power is an environmentally friendly renewable energy which does not emit CO2 and other greenhouse gases. The geothermal area hosting the Olkaria power plant is situated in Kenya's Hell's Gate National Park, home to an abundant variety of animal life. The plant was constructed in a way that protects park's ecosystem. For example, sections of the steam pipelines are raised to a height allowing animals to pass so as not to inhibit their movement. With these innovations, the plant is supporting stable economic growth while ensuring a harmonious coexistence with the magnificent natural world around it.
*1

Source: The GDP estimate for Sub-Sahara Africa is based on IMF documents published in January 2015

*2

Note: The Great Rift Valley runs north-south along the eastern part of Africa. Volcanic activity occurs between the adjoining seismic plates.

*3

Note: Rainwater sinks deeply into the earth and becomes steam when heated to high pressures by the magma layer. Geothermal power plants are located on these hot spots.

*4

Source: Cabinet Office website
2015年04月01日