Stories of Our ProjectsDomesticOverseas
Reinforce the Automotive Business Earnings Platform
Toyota Tsusho is further reinforcing its earnings platform in the mainstay Mobility domain. We will present the case of the automotive business, a major earnings pillar for the Company that is essential to realizing the Vision.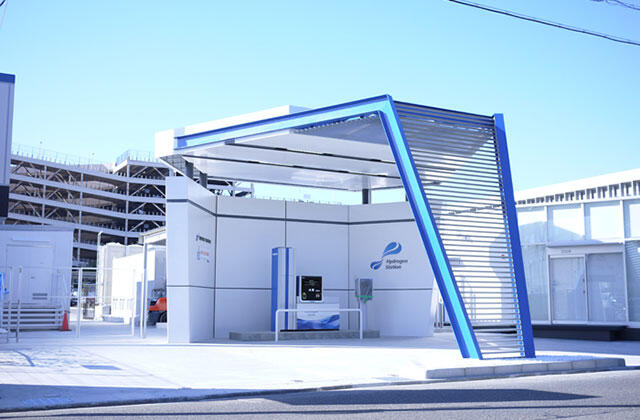 An Automotive Value Chain Spanning a Wide Range of Fields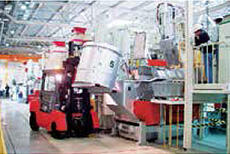 The Toyota Tsusho Group does not simply trade materials and products. As a general trading and project management company that specializes in the Mobility domain, we invest in strengthening our functions, and provide new value by utilizing these functions in a wide range of fields that exceed their traditional boundaries. Through this process, we are creating a value chain that extends from resource development of rare-earth resources, lithium, and other raw materials, to planning, proposal, and construction of efficient supply systems, and then finally to reuse and recycling of waste materials.
We are involved in a wide range of businesses in which we work directly with customers to address on-site needs. For example, we possess our own processing plants at which we store and process steel materials and operate a molten aluminum production business in which we transport aluminum in a molten state to engine and tire wheel factories. In our tire and wheel assembly business, assembled tires and wheels are delivered to manufacturers' production lines. At the end of the value chain, we collect iron and steel scraps created during factory processing, and then reuse these materials. In these pursuits, we employ the Toyota Production System (TPS) to support efficient operation and provide greater value.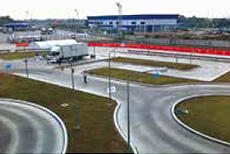 In its logistics operations, Toyota Tsusho utilizes Company-owned warehouses and trucks to provide efficient logistics and storage. This business is being continually improved through coordination with customers through such means as the planning and development of packaging materials that save space and prevent products from damage and the creation of packing techniques to complement these.
Each product division consists of a vertically integrated organization. By then forming horizontally linking functions, we are able to connect the functions of each division to solidify Toyota Tsusho's unique value chains. Taking a hands-on approach, we are committed to raising value by always focusing on the actual sites, products, and circumstances we are addressing. This stance is Toyota Tsusho's greatest strength.
This type of value chain was initially born in the automotive business. By expanding such value chains beyond the automotive sector, we aim to cultivate additional earnings pillars to stand alongside the automotive business.

Reinforce Functions and Services Tailored to Customer Needs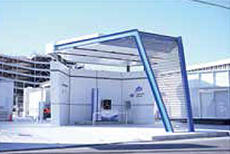 In recent years, we have been strengthening a variety of functions and services in upstream to downstream fields. In upstream fields, Toyota Tsusho was the first Japanese company to participate in a lithium resource development project, which is essential to the growth of plug-in hybrid vehicles (PHVs) and electric vehicles (EVs).
In midstream fields, Toyota Tsusho has been developing a technopark business to meet the needs of Japanese automobile and parts manufacturers looking to expand and develop markets overseas. This business provides total service to the manufacturers including hard elements, such as the rental of factory land and buildings, as well as soft elements, such as administrative and accounting services. Elsewhere, in our efforts to bring our automotive sales operations closer to the consumer, we have been involved in captive finance and lease, and used vehicle sales to make the cars we sell accessible to as many consumers as possible.
In downstream fields, we operate hydrogen stations to promote the growth of fuel-cell vehicles. Going forward, we will expand and strengthen the Mobility domain value chain with a view to developing a hydrogen manufacturing business.
Promote a Region-Specific Production and Sales Strategy
In our mainstay automotive business, with the advancement of lighter weight, more compact vehicles and increasing local procurement, it is imperative that Toyota Tsusho, a trailblazer in the Toyota Group, proposes business solutions and initiatives tailored to customers' needs in each region and domain.
In terms of automobile production, the North America & Europe and Asia & Oceania regions where we operate on a large scale will continue to be our main domains. In addition to proposing and developing new technologies and materials, Innovative International Multipurpose Vehicles (IMVs), and vehicles facing model changes, we will also adapt swiftly with production increases at our new production bases in Mexico and China.
On the sales front, it is vital that we expand our sales network and enhance our after-sales service and other peripheral businesses in the emerging markets where the penetration rate of automobiles is expected to rise.
We will apply insightful proposals and solutions to enhance the scope and depth of this core business, and leverage the experience we gain to develop businesses outside of the Toyota Group, as well, to further increase earnings.
2015年07月01日