Stories of Our ProjectsOverseas
Recycling automobiles in China with technology recognized by Prime Minister's Award
As the volume of end-of-life vehicles (ELV) surges in emerging countries, the Toyota Tsusho Group has taken the initiative in China by becoming the first Japanese company to launch an auto dismantling and recycling business. The aim of the business is to apply advanced technologies accumulated over the past 40 years in Japan to help solve environmental issues in China. We've embarked on an important new challenge for the future of China.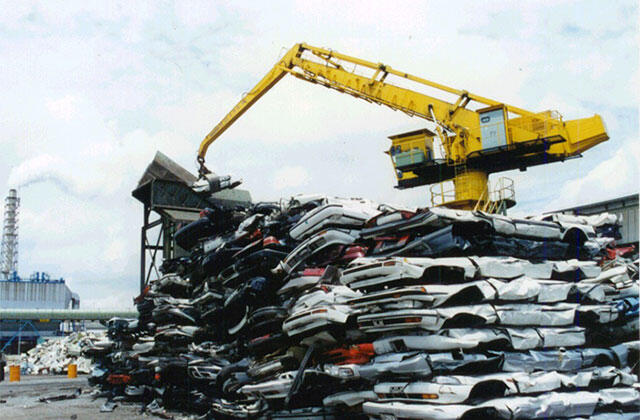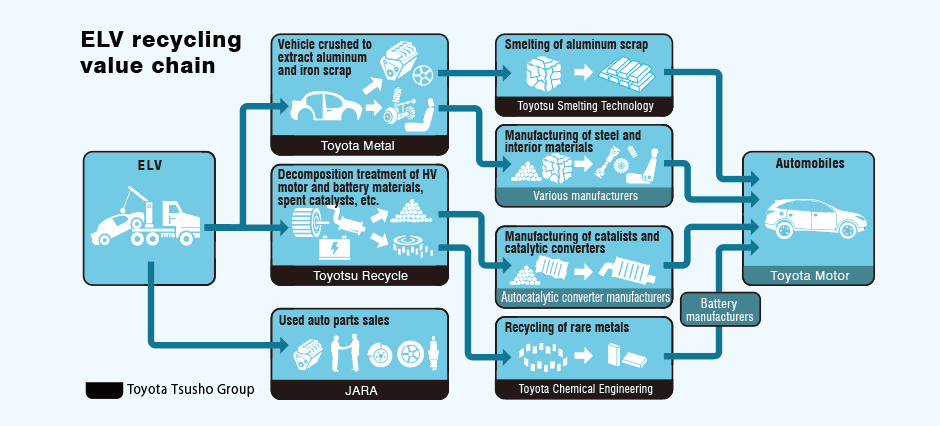 Comprehensive 3R*1activities anticipating future needs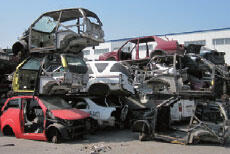 In 1970, Toyota Tsusho and Toyota MotorCorporation established the joint-ventureshredder company Toyota MetalCo., Ltd. to extract and recycle steel,nonferrous metals, and other resourcesfrom ELVs. The new company addresseda pressing social need in Japan to dealwith pollution caused by scrapped vehicles.In 1994, Toyotsu Recycle Corporationwas established to recycle preciousmetals from ELV exhaust catalysts. In1998, we deepened our commitment bylaunching the world's first ASR*2 recyclingplant.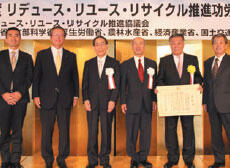 In 2001, an auto recycling laboratorywas established, which dedicated to developingeasily dismantled vehicles, efficientdismantling technologies, and rare metalrecycling technologies. Since our ELVrecycling business started, the ToyotaTsusho Group has recycled some 7.0 millionELVs, and today we boast an effectiverecycling rate of 99%.
In recognition of our comprehensive3R activities throughout the automobilelifecycle, Toyota Tsusho Corporationand Toyota Motor Corporation wereawarded Japan's Prime Minister's Prize infiscal 2013 at the 3Rs promotion meritawards sponsored by the 3R PromotionAssociation Council.
Building an advanced recycling system through feasibility studies in Beijing
In Japan, Toyota Tsusho has created the No. 1ELV recycling value chain. For many years, wehave striven to expand our leading-edge autorecycling business overseas. We have alreadyestablished 23 scrap metal recycling sites in 12countries to recycle metals generated in the automanufacturing process. In 2012, undertaking aproject for the New Energy and Industrial TechnologyDevelopment Organization (NEDO),we launched a feasibility study to build anadvanced auto recycling system in Chinacapable of large-scale, centralized recycling.
Amid its breakneck economic expansion,China now boasts the world's second largestnumber of owned vehicles. The stiffening of thecountry's environmental regulations is expectedto encourage the disposal of older models andlead to an explosion of ELVs in coming years.Limiting the environmental impact of massiveamounts of ELVs through safe and efficientrecycling is a major social issue for China.
In the two-year feasibility tests in Beijing, wesucceeded in building a comprehensive dismantlingand recycling system which limits environmentalimpact. The system covers the entire recyclingprocess, from preprocessing to the destructionof fluorocarbons and other harmful materials,the shredding of vehicle bodies and crushing oftires. With an annual recycling capacity of morethan 10,000 autos, the Beijing plant features anadvanced recycling rarely seen even in Japan.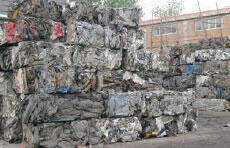 After the success of the feasibility study,Toyota Tsusho made a capital investmentin the study's partner company (BeijingBorui liantong Auto Recycling TechCo., Ltd.) in February 2014 to becomethe first Japanese company to enter theauto recycling business in China. Thejoint venture is now striving to develop amodel ELV recycling plant for Chinabased on environmental consciousness,safety, and high productivity.
We plan to gradually increase the number of bases in China, with a view to legalizing Chinese society, such as the enforcement of the Automobile Recycling Law. We will strive to contribute tothe creation of a recycling-oriented societyin China by building the nation's No. 1ELV recycling value chain.
*1

Reduce, reuse and recycle

*2

Shredder dust generated during the recycling of ELVs.
2018年12月01日