Key Sustainability Issues (Materiality)
The Toyota Tsusho Group has identified the Key Sustainability Issues (Materiality) that it needs to be aware of as it pursues the realization of its corporate philosophy and Global Vision to clarify those social issues that it needs to focus on based on its management strategies. In the process of identifying those issues, we engaged in repeated discussions while taking into consideration the opinions of management and other internal and external stakeholders.
The Toyota Tsusho Group's Materialities are related to 11 of the United Nations' Sustainable Development Goals (SDGs). The company is achieving sustainable growth and contributing to solutions to social issues and the realization of the SDGs by each employee engaging in business activities with an awareness of these Materialities. To clarify the objectives, we set key performance indicators (KPIs) for our respective Materialities in 2020.
We incorporated into our employee evaluation indicators "contribution to the development of a sustainable society and action taken with an awareness of our Materialities" to encourage individual employees to take action with an awareness of the need to resolve social issues. In 2020, we invited outside experts to give lectures to our management and employees to enhance their awareness of sustainability, and more than 500 people attended. Training on sustainability and the company's Materialities is also conducted for new employees.
These Materialities are not intended to be unchanging. In last year's Sustainability Management Committee, a proposal was made and approved to change the materiality direction our company should take from "Contribute to the transition to a low-carbon society" to "Contribute to the transition to a carbon neutral society.""
The Toyota Tsusho Group's Key Sustainability Issues (Materiality)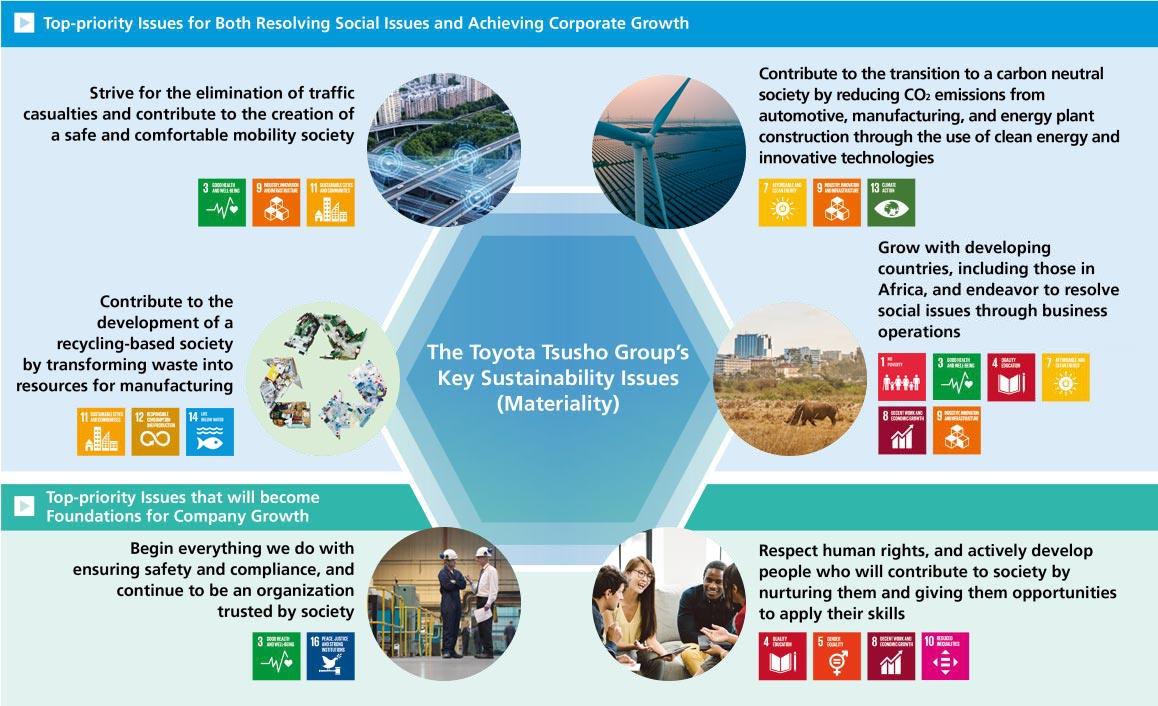 Process of Identifying Key Sustainability Issues (Materiality)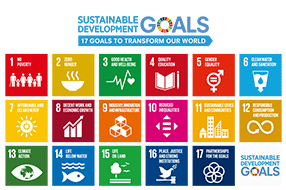 We referred to guidelines such as CSR and ESG guidelines (GRI Standard, ISO 26000, UN Global Compact, FTSE4Good, MSCI) and the standards of Toyota Environmental Challenge 2050 to identify and organize social issues, focusing on the 169 targets of the SDGs, which are considered to comprehensively cover global social issues.
We checked if these organized social issues aligned with our corporate philosophy, behavioral guidelines, Global Vision, and Mid-term Business Plan, and identified 43 issues.
Prioritize Issues with Stakeholders
Through questionnaires and dialogue with stakeholders, both inside and outside the Group, regarding the identified 43 social issues, we prioritized expectations and requests for the Group, and the importance of these social issues to the Group, and created a materiality matrix.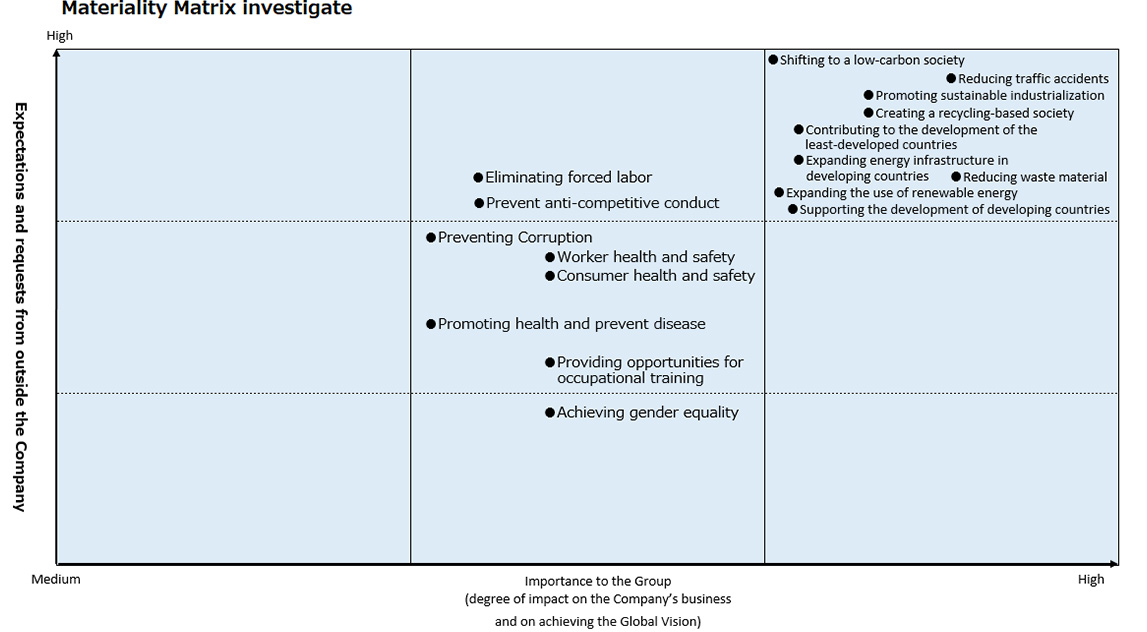 Internal

Interviews with individual divisions, questionnaires administered to all Toyota Tsusho employees, CSR staff in Japanese affiliated companies, and overseas staff
External

Interviews with Japanese institutional investors, and questionnaires administered to general investors
We created proposed materialities using a materiality matrix, focusing on social issues with a high level of importance inside and outside the Company.
The materialities identified are not the only materialities which the Group will address. Instead, they are the materialities identified as being the most important for the Group.
Confirm the suitability of the identification process and the proposed materialities
Managers and the chief division officers of each division participated in CSR Committee discussions (at a meeting held in early December 2017)
Individual interviews with outside directors
Main Opinions from Participants
It is noteworthy that the materialities are prepared after conducting a well-established process.
This is no longer a time in which countries and governments can accomplish whatever they want on their own. It is necessary for society to change, and the Company needs to be aware of changing its systems and programs. It is necessary to refer to the knowledge of NGOs, NPOs, and other organizations.
When viewed from the perspective of the materialities, we need to start a discussion on businesses that will become contradictory, businesses that should be slowed down, and businesses that we should terminate in the future. I want to establish materialities that will lead to an image of a set of guidelines for the future.
It is necessary to change employee awareness so that we can expand perspectives from the Company's existing method of creating business by focusing on resolving customer problems and shifting from social issues that are global problems to a concept of business creation. Accumulating "quick hits" in the form of successful experiences will likely generate a virtuous cycle.
The more amicable the language the vaguer it becomes, and this can give the impression that ultimately nothing will be done. So we need to use sharp language and adopt innovations.
For employees, if the individual topics are narrowed down too far, the next step is difficult. But, if they are too general, it is difficult to know what to do. It is necessary to organize topics in a way that makes it easy for employees, as they are the ones who are to act.
Identify Our Materialities
Our Materialities were approved following discussions by the CSR Committee (currently, the Sustainability Management Committee) at meetings held in March 2018. Our Materialities were explained and reported to the directors and Audit & Supervisory Board members at a Board of Directors' meeting.
Setting KPIs and Incorporating Them into Sales Divisions' Policies
Toyota Tsusho set Materiality KPIs in 2020 to provide concrete indicators of how the company's business activities are contributing to the SDGs. Going forward, we will apply the plan-do-check-act (PDCA) cycle to solutions to social issues and undertake business with the degree of achievement of these KPIs in mind at all times.
When setting the KPIs, repeated discussions were carried out with sales divisions including division CEOs to reflect the approaches for resolving social issues through business based on the Materialities and the SDGs in the policies of each sales division. Furthermore, the Sustainability Management Committee reflected the opinions of management and outside directors in the KPIs. To indicate the direction the Toyota Tsusho Group should take, we either quantified and set quantitative targets for representative themes of our respective Materialities or identified qualitative targets with the expectation of switching to quantitative targets in the near future, making clear the actions that contribute toward resolving the issues.
*

For the KPI as for each matreriality, please see「Initiatives to Address Key Sustainability Issues」