Initiatives to Address Key Sustainability Issues (Materiality)
Contribute to the transition to a carbon-free society by reducing automotive, manufacturing, and energy plant construction CO2 emissions through the use of clean energy and innovative technologies




Climate change is a major issue that affects all life on earth. To tackle this issue, the Toyota Tsusho Group is actively increasing sales of next-generation eco-cars (HEVs, PHEVs, BEVs, FCEVs, etc.), developing infrastructure such as hydrogen stations, reducing vehicle weight by using alternative materials, and securing lithium resources that support increased production of the automotive batteries essential for eco-cars. We are also using the knowledge we have accrued through our experience with renewable energy such as wind and solar power together with various innovative technologies to contribute to the realization of a sustainable, carbon-free society by reducing automobile CO2 emissions, cutting CO2 emissions through product life cycles, including the logistics business, and contributing to the elimination of CO2 emissions from plants.
Proportion of renewable energy in the company's total electric power generating capacity*1
Results for the fiscal year ended
March 31, 2022
Targets for the fiscal year ending
March 31, 2025
Toyota Tsusho Group's global market share*2 of electrified vehicles*3
Expansion of the renewable
energy business in Africa
Total power generation capacity
Results for the fiscal year ended
March 31, 2022
Targets for the fiscal year ending
March 31, 2025
Contribution to CO2 emissions reduction
Results for the fiscal year ended
March 31, 2022
Targets for the fiscal year ending
March 31, 2025
Sales of products and services that contribute to
energy saving and CO2 emissions reduction2
Businesses such as molten aluminum supply (which reduces CO2 emissions by using recycled ingot), lithium, low power consumption electronic components (semiconductors, etc.)
Results for the fiscal year ended
March 31, 2022
Targets for the fiscal year ending
March 31, 2025
Greenhouse gas emissions
*4
:
Carbon neutrality by 2050
(4% reduction)
765kt-CO2
Result for CY2021
50%
※reduction from
the results for CY2019
Target for CY2030
Carbon
neutrality
Target for CY2050
*1

Renewable energy includes wind power (including offshore wind power), solar power, geothermal power, hydroelectric power, and wood biomass power

*2

A 2025 target was set based on sales results and governmental measures for promoting the widespread adoption of next-generation eco-cars in the Toyota Tsusho Group's sales regions.

*3

Electrified vehicles: HEVs, PHEVs, BEVs, FCEVs, etc.

*4

Scope 1 and Scope 2
Long-term policies for realization of a decarbonized society In July 2021, Toyota Tsusho established long-term targets toward 2050 and targets for 2030 as intermediate targets. For further details, click here.
PICK UP
Reducing CO2 Emissions by Supplying Recycled Aluminum in Molten Form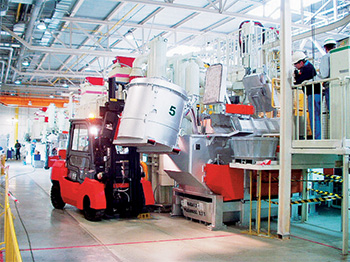 Aluminum is said to be the most effective replacement for iron to reduce vehicle weight. Since 1998, Toyota Tsusho has been supplying recycled secondary aluminum alloy ingots in a molten state, which has better CO2 emissions reduction effects, and is one of the world's top suppliers.
Even though it is still aluminum, the supply of molten recycled aluminum can generally be expected to have about a 98% CO2 emissions reduction effect compared to the use of new aluminum ingots refined using massive amounts of energy. As aluminum demand increases, we are developing technologies that can enhance the value of low-grade aluminum scrap and increase use rates, and we are creating smart factories that raise energy efficiency.
As a part of the circular recycling business that Toyota Tsusho is developing, we are reinforcing functions in the aluminum recycling value chain from upstream to downstream.
PICK UP
Establishment of a Dedicated Lithium Hydroxide Manufacturing Company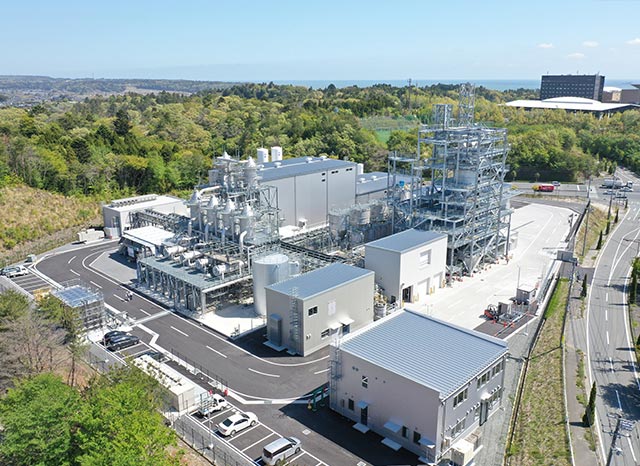 From the perspective of mobility, the widespread uptake of next-generation eco-cars is a key factor in reducing CO2 emissions and combating climate change. Since the end of 2014, Toyota Tsusho and Orocobre Limited have been jointly producing lithium carbonate at the Salar de Olaroz facility in Argentina to provide a stable supply. As the electrification of automobiles accelerates, the demand for lithium is expected to keep growing. By enhancing our production capacity to meet the robust demand, we are aiming to build a long-term, stable lithium supply structure.
In 2018, we established Toyotsu Lithium Corporation, the first dedicated lithium hydroxide manufacturing company in Japan. The company aims to manufacture and sell lithium hydroxide, which is a raw material for LiBs, and is building a manufacturing plant in Naraha-machi, Fukushima Prefecture, at which it plans to start production in 2022.
Initiatives to Address Key Sustainability Issues (Materiality)