Initiatives to Address Key Sustainability Issues (Materiality)
Strive for the elimination of traffic casualties and contribute to the creation of a safe and comfortable mobility society



The automobile industry has entered a once-in-a-century transformation.
The birth and evolution of advanced technologies, such as autonomous driving, artificial intelligence (AI), and the Internet of Things (IoT), are poised to greatly expand mobility potential. The Toyota Tsusho Group sees these environmental changes as business opportunities and will undertake initiatives such as improving traffic infrastructure by using material innovation, autonomous driving and advanced safe driving support technologies, and other means. Through this, we aim to reduce the number of road accidents and achieve zero traffic casualties and injuries and contribute to the development of a safe and comfortable mobility society.
Revenue (sales) from products and services that will lead to zero traffic casualties
Apply kaizen (continuous improvement) to vehicle maintenance status to reduce accidents, supply collision prevention warning devices, onboard cameras, and electronic components for autonomous driving, and take other measures
Result for the fiscal year ended March 31, 2022
Target for the fiscal year ending March 31, 2025
Continue to contribute to the creation of a safe and comfortable mobility society through CASE-related businesses
Measures for the elimination of traffic casualties
Operation of a driving school business in India
Participation in the field test of the infrastructure cooperative hazard avoidance system "ITS Smart Pole"
Promotion of safe and comfortable mobility services
Consideration of commercialization of the state-of-the-art autonomous truck driving project
Development of OTA*2 services (prevention of accidents and vehicle error)
*1

A multifunction utility pole equipped with information technology devices such as cameras and sensors for detecting vehicles and pedestrians in the vicinity of traffic junctions, communication devices, and LED signboards

*2

Over-the-air: Remote software update function
PICK UP
Accelerating Development in the Next-generation Connected Car Field:
Creating a Safe and Comfortable Mobility Society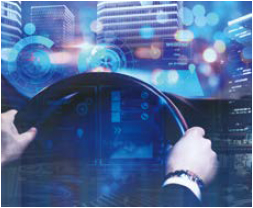 In conjunction with recent advances in automobile performance including autonomous driving and increased use of electronics, the software loaded on automotive electronic control units (ECUs), which are like the brain of the car, has become increasingly large and complex.
In the future, cars will communicate with various devices, and it will be important for connected cars that provide safe, secure, comfortable, and convenient services to use OTA systems to wirelessly update software from remote locations.
Toyota Tsusho, Toyota Motor Corporation, and Denso Corporation have jointly invested in Airbiquity Inc., a developer of software for connected cars.
This investment will lead to accelerated development of safe and highly reliable OTA systems and contribute to connected car development and the creation of a new mobility society.
PICK UP
Achieving Technology to Enable Truck Platooning without Drivers in the following
Vehicles on Expressways -Creation of a safe and comfortable mobility society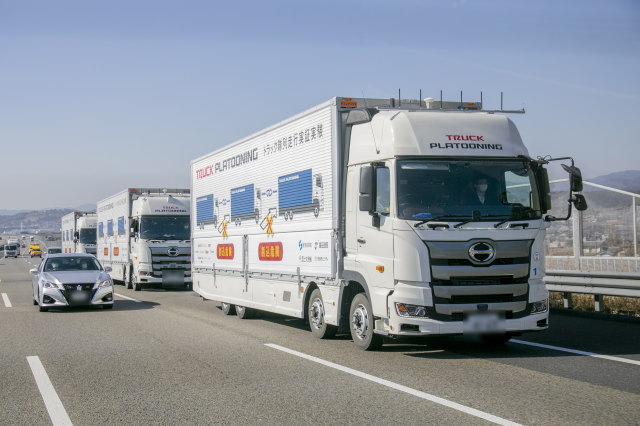 As part of demonstration tests for the societal implementation of truck platooning, subcontracted by the Ministry of Economy, Trade and Industry and the Ministry of Land, Infrastructure, Transport and Tourism, Toyota Tsusho successfully conducted the test of truck platooning with driverless following trucks between the Enshu-Morimachi Parking Area and Hamamatsu Service Area on the Shin-Tomei Expressway (approximately 15 km) on February 22, 2021.
Aiming to achieve the Japanese government's goal of "realizing autonomous driving technology that enables truck platooning with driverless following trucks on expressways by the end of FY2020," Toyota Tsusho has been developing vehicle technologies and conducting demonstration tests of systems that feature driverless following vehicles since FY2016.
The autonomous driving technology for truck platooning that was recently successfully demonstrated had a convoy of three large trucks, including two driverless following trucks, traveling at a speed of 80 km/h while maintaining an intervehicle distance of approximately nine meters.
Toyota Tsusho is striving to help solve the issues being faced by the logistics industry, including the shortage and aging of truck drivers, and the need to improve fuel efficiency. Our goal is to contribute to the creation of a new mobility society.
Initiatives to Address Key Sustainability Issues (Materiality)