Toyota Tsusho endeavors to ensure that executives and employees perform their duties following laws, regulations, the company's Articles of Incorporation, and corporate ethics as the basic policy for compliance.
In July 2016, Toyota Tsusho enacted its Global Code of Conduct & Ethics (COCE), which defines the company's behavioral guidelines, after it was approved by the Board of Directors in April of that year. The COCE was formulated by a team of Toyota Tsusho Group employees from Japan and overseas. The company issues the COCE Booklet with the president message in various languages (currently, 23 languages) and has made it available on the company intranet. Knowledge of the booklet has been thoroughly disseminated through the COCE global network, and both executives and employees have pledged to follow the COCE. To maintain compliance measures at the highest levels, the Company will periodically assess and verify the effectiveness of the current basic policies, COCE, and individual compliance measures and make improvements as necessary.

Global Code of Conduct & Ethics (COCE)
In July 2016, Toyota Tsusho enacted its Global Code of Conduct & Ethics (COCE) based on the approval by Board of Directors , which defines the company's behavioral guidelines.
The COCE was formulated by a group of domestic and overseas employees. A message from the president and a COCE Booklet is posted on the Company intranet in 23 different languages with the aim of gaining the understanding of all Toyota Tsusho Group executives and employees regarding the global shared conduct standards and having them put into practice through the COCE global network.
At the Company, if there are any concerns regarding COCE violations, all officers and employees are obligated to make a timely report through the appropriate channels, and persons making reports are guaranteed that there will not be any retaliatory action or measures taken. The reporting channels include supervisors, corporate divisions, and an anonymous global hotline that allows anonymous reports to be made in more than 160 languages.
We also carefully check for COCE violations through on-site inspections conducted by Planning Departments of the sales divisions and internal audits conducted by the Audit Department.
We also use the latest digital tools including IT and AI to analyze massive amounts of data including expenses, purchases, and financial statements and monitor for signs of impropriety in an effort to prevent and rapidly detect improper conduct. The analysis results are also used for the on-site inspections and internal audits mentioned above.
When concerns regarding COCE violations arise, the Enterprise Risk Management Department and other relevant departments including the Legal Department and the Human Resources Department conduct rigorous investigations and take measures in accordance with our Incident Response Manual.
The number of domestic and overseas COCE violations within the Group during fiscal 2020 was as follows.
-Total number of violations: 27. However, there were no violations that had a significant impact on the management of the Group.
Booklet of Global Code of Conduct & Ethics(COCE)
The booklet provides behavioral guidelines regarding the 10 creeds of the Global Code of Conduct & Ethics (COCE) in greater detail.
The Toyota Tsusho Group clearly states its anti-corruption policy in the Global Code of Conduct & Ethics (COCE), and prohibits corruption and prevents money laundering as its Anti-Corruption Policy.
1

Corruption refers to all acts of abuse of authority in search of unfair profits, and includes all forms of corruption such as bribery, cartels/bid-rigging, embezzlement, and conflicts of interest.

2

Bribery refers to the improper provision of money, gifts, entertainment or other benefits to civil servants or private individuals, or promises to provide them or the act of making such promises, to obtain or secure business benefits, whether directly or indirectly.

3

Bribery refers to the request or receipt of money, gifts, entertainment or other benefits in return for improper judgment or conduct, whether directly or indirectly.
2.Supervision by the Board of Directors
Under the supervision of the Board of Directors, the Legal Department strictly investigates and deals with cases of COCE violations together with related departments such as the Legal Department and the Human Resources Department based on the Incident Response Manual. In addition, at the Integrated Risk Management Committee, which is held quarterly, chaired by the Vice President and CCO, the policy of global compliance activities including anti-corruption efforts, as well as the activity status and violation status during the relevant fiscal year, are reported. The content of the report is reported to the Board of Directors by the Integrated Risk Management Committee.
Our Anti-bribery rules and guidelines to avoid violating the bribery regulations of each country, including the Foreign Corrupt Practices Act (FCPA) of the United Sates, the Bribery Act 2010 (UKBA) of the United Kingdom, and the Unfair Competition Prevention Act of Japan have been established and enacted in order to prevent bribery. Specifically, we are obliged to pre-examine and approve transactions involving the government, pre-examine and approve invitation of public officials, and report provision of entertainment and gifts to public officials. In addition, in order to prevent money laundering, payments to third countries and third parties are prohibited in principle, and the approval procedures for special approval are stipulated. We also regularly monitor the status of compliance with these internal rules and strive to ensure thorough compliance with these rules, and also improve them.
As part of the above-mentioned approval procedures, we conduct following due diligence for existing and new agencies (agencies, agents, consultants, etc.), suppliers, joint ventures, and joint venture partners, equivalent to their risk assessment. In addition, with new business partners and existing business partners associated with corporate acquisitions and joint ventures, we inform them of the Group's anti-corruption policy so they understand the Group's strong determination to prevent corruption. As a general rule, we conclude a contract that includes a clause on anti-bribery and obliges the new and existing business partners to the prevention of corruption, including bribery, thereby preventing the occurrence of corruption.
1

Pre-contract confirmation of business partner's anti-bribery system through Anti-Bribery & Corruption Questionnaire

2

Checking bribery controversies of business partners using the third-party risk and compliance database

3

Background survey on bribery and corruption risk of the business partner by a third-party
Regarding group companies, we also regularly (every other year) evaluate their corruption risks, including bribery, with reference to the Corruption Perceptions Index (CPI) published by Transparency International. Based on the results of the risk evaluation, in consultation with local attorneys regarding the laws and regulations of each country, we establish related internal rules including anti-bribery rules for each country, and implement similar initiatives as descrived above, such as approvals and reporting procedures, due diligence of business partners, and providing e-learning of external organizations which we contract. In particular, for group companies evaluated as having a high risk, the legal staff of the head office visits their offices and conducts hearings, etc., and then provides guidance and support so that the above efforts can be properly designed, implemented, and carried out. The Legal Department of the head office monitors the implementation and execution status of these efforts to prevent corruption.
The Laws & Ordinances Handbook for Executives and the compliance manual for employees also clearly state the prohibition of the above-mentioned corruption, and they are distributed to all executives and employees. In addition, for dissemination and understanding of it, we carry out e-learning, which is mandatory for all executives and employees.
5.Individual Responses to COCE Violations
The content of such reports is required to be immediately reported to the Legal Department General Manager, who is responsible for compliance, through the president of each company and the General Manager of the involved department. Upon receiving the report, the Legal Department General Manager immediately reports to the top management, CCO, CFO and Audit & Supervisory Board Members, as well as related departments such as the Human Resources Department, and the Public Relations Department, and conducts the initial response, necessary investigations, etc., as is appropriate. The status of actions taken and the results will be reported to the CCO and Audit & Supervisory Board Members. If an employee commits a fraudulent activity, they will be dealt with strictly through procedures according to the award and punishment rules, such as the establishment of a disciplinary committee. In addition, in order to prevent similar COCE violations from occurring within our group, the outline of the case, the root cause of occurrence, the recurrence prevention measures, etc. are shared quarterly within our group and are used for compliance education at our company and each group company.
6.Detected Cases of Corruption
In fiscal 2020, no cases of corruption were detected in the Company, and we did not pay any fines or surcharges.
The whistle-blowing system was expanded and extended from its former form, in which reporting was possible through internal reporting lines and external lawyers, by adding a dedicated external reporting line. This reporting line, created in November 2017, offers multilingual support (currently, in more than 160 languages), and makes it easier for employees to report or consult on matters related to violation of the COCE by providing global service with greater anonymity and confidentiality. All whistle-blowing information is directly reported to Audit & Supervisory Board members and reports on the status of responses are made to ensure independence from management.
Toyota Tsusho was registered as a business making a self-declaration of conformity under the Consumer Affairs Agency's Whistleblowing Compliance Management System (self-declaration of conformity registration program) on April 24, 2020.
Going forward, we will continue to establish and operate whistleblowing systems that achieve even higher reliability and effectiveness and will promote reinforcement of compliance management and higher corporate value.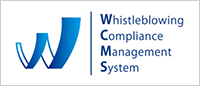 *The Whistleblowing Compliance Management System is based on the Guidelines for Business Operators regarding the Establishment, Maintenance and Operation of Internal Reporting Systems Based on the Whistleblower Protection Act. It is a program that assesses businesses that appropriately establish and operate whistleblowing systems and encourages such action to enhance the quality of whistleblowing systems and ensure safety and a sense of reassurance in the lives of the public.
Raising Awareness of Compliance
To inform executives and employees about codes of conduct they must comply with in their day-to-day work, Toyota Tsusho conducts various types of training and seminars, obtains pledges from all executives and employees, and uses e-learning and other programs mandatory for all employees to review the status of compliance with codes and ensure compliance with laws and regulations as well as corporate ethics. In the fiscal year ended March 31, 2021, we held training for various levels of the organization, including new employees, newly appointed managers, line managers, and executives, as well as for specific groups such as newly appointed executives at domestic Toyota Tsusho Group companies and employees about to be stationed overseas. The company also conducts training, e-learning, and information sessions for executives and employees on topics such as insider trading, bribery prevention, cartels, supply chain CSR, and the COCE to ensure that all personnel are fully aware of the prohibition of corruption in all forms. In addition, the company reviews, revises, and issues the Laws & Ordinances Handbook for Executives for executives and a compliance manual for employees every two years so that the entire company workforce is familiar with important laws to ensure strict compliance with laws, regulations, and corporate ethics.
It is the fundamental policy of Toyota Tsusho and the Toyota Tsusho Group, under the responsibility of the CFO(Member of the Board Hideyuki Iwamoto), to comply with the tax laws and tax regulations of each country and to appropriately satisfy its global tax obligations.
Emphasis is placed on conducting business activities appropriately and rationally, and we have decided to implement business development and global system construction in line with business objectives, and we do not use tax havens to avoid arbitrary taxation. In accordance with the spirit of the law, we comply with the laws and taxation conventions of each country and international taxation rules, and appropriately file and pay tax with respect for that spirit. We build fair relationships with tax authorities in the regions in which we do business by appropriately disclosing information and engaging in constructive dialogue.
Led by our basic policy, we strive to eliminate double taxation and appropriately utilize tax incentives to achieve appropriate tax costs.