Toyota Tsusho Acquires ISO 30414 Certification, Guidelines for Human Capital Reporting
- Human Capital Report 2022 Issued to Strengthen Human Capital Management -
2022-10-31
Toyota Tsusho Corporation ("Toyota Tsusho") announced today that it has acquired ISO 30414 certification, international guidelines for human capital reporting, on October 31, 2022. It is the second in Asia including Japan and the first acquisition of this certification in the wholesale industry. In combination with this acquisition, Toyota Tsusho has also issued the Human Capital Report 2022, which incorporates and summarizes quantitative information on human capital.

With growing interest in ESG (Environmental, Social, and Governance) management, the objective of human resource management is currently shifting from traditional "human resource and management" to "human capital and value creation." Overseas, the U.S. Securities and Exchange Commission (SEC) announced in August 2020 that "human capital reporting" will become mandatory for listed companies. In Japan, the need for human capital management practices and reporting at companies is increasing, as evidenced by the issuance of the Report of the Study Group on Improvement of Sustainable Corporate Value and Human Capital by the Ministry of Economy, Trade and Industry's study group on human capital in September 2020.

However, there have been no objective indicators for human capital until now, and selective and limited reporting by companies has become an issue. ISO 30414,a set of international guidelines for human capital reporting, had been developed by the International Organization for Standardization (ISO) in December 2018. It outlines items that should be discussed internally and indicators that should be reported externally. It provides a comprehensive list of 58 indicators that enables to quantify 11 items of particular interest to stakeholders, including compliance and diversity.

Toyota Tsusho has been working to increase the value of both its human capitals and the company. Going forward, it will further accelerate its human capital management efforts by making objective comparisons that reference ISO 30414, an international standard, and by implementing a PDCA cycle based on this standard.




(Reference)Independent Auditors Report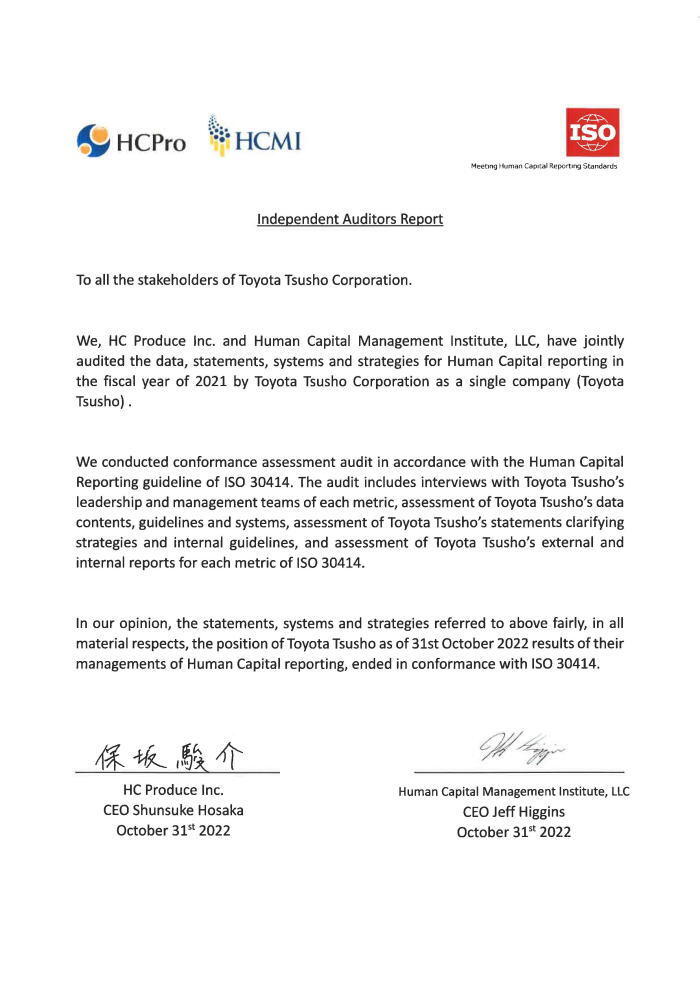 The information in this release is current as of the date of announcement.
Please note that information may change after the date of announcement. Thank you in advance for your understanding.