Toyota Tsusho Launches Drone Delivery of Medical and Pharmaceutical Supplies Business in Nagasaki Prefecture's Goto Islands
- Network Powered by Zipline, the World's Leading Instant Logistics System -
2022-04-21
Toyota Tsusho Corporation ("Toyota Tsusho") announced today that it has established the Group company Sora-iina and will launch a drone delivery of medical and pharmaceutical supplies business in the Goto Islands of Nagasaki Prefecture.

The sora-iina departure and arrival base has now been completed on the Goto Islands' Fukue Island and a completion ceremony was held on April 21.

This project will use the autonomy platform and aircrafts (fixed-wing) of the U.S. company Zipline International Inc. ("Zipline"), the global leader in instant logistics, with whom Toyota Tsusho has a partnership. This marks the first time that Zipline has provided its technology to a company other than its own.
In Japan, the use of drones in fields such as recording, pesticide spraying, and infrastructure inspection has been spreading rapidly. Societal implementation is also expected in the field of logistics, with the aim of creating new industries and services as well as improving the convenience of daily life. In addition, in December of 2022, law reform is expected that would allow for "unassisted non-visual flight over manned areas" (level 4 flight), and the improvement of the environment for expanding the use of drones is progressing.

Since investing in Zipline in June 2018 to promote collaboration in the field of instant logistics and automated, on-demand delivery, Toyota Tsusho has promoted collaboration in countries such as Ghana. Furthermore, in March 2021, Toyota Tsusho entered into a strategic operational partnership with the aim of societal implementation of drone logistics services in the Japanese market and has been considering specific initiatives.
sora-iina has entered into long-term demonstration contracts with three pharmaceutical wholesale companies*1 based in the city of Goto and will deliver medical and pharmaceutical supplies to medical institutions and pharmacies. The delivery area will begin with regular flights to Naru Island, with plans to gradually increase it to western Fukue Island, other islands in the city, Shinkamigoto and other areas.

The company will continue to accumulate operational results in level 3 flight with the aim of achieving level 4 flight in the future.

In addition, this business was selected by the Organization for the Promotion of Low Emission Vehicles (LEVO) as a "FY2020 CO2 Emission Reduction Measures Business," and is a joint business between the city of Goto, sora-iina and Toyota Tsusho as part of an initiative towards Goto's "Smart Island."

The Toyota Tsusho Group will promote this business together with local residents, and through the drone delivery of medical and pharmaceutical supplies business, contribute to the solving of social issues in depopulated areas, remote islands and secondary remote islands such as labor shortages, logistical issues and disparities in access to medical care. Through this, it will aim to make people's lives more comfortable and prosperous.
| | |
| --- | --- |
| Company name | sora-iina |
| Location | Shimoozucho, Goto, Nagasaki Prefecture |
| Established | April 2021 |
| Representative | President and CEO Michelle Mika Matsuyama |
| Shareholder | Toyota Tsusho Corporation 100% |
| Business description | Logistics services via drones |
| Website | https://www.sora-iina.com/ (in Japanese) |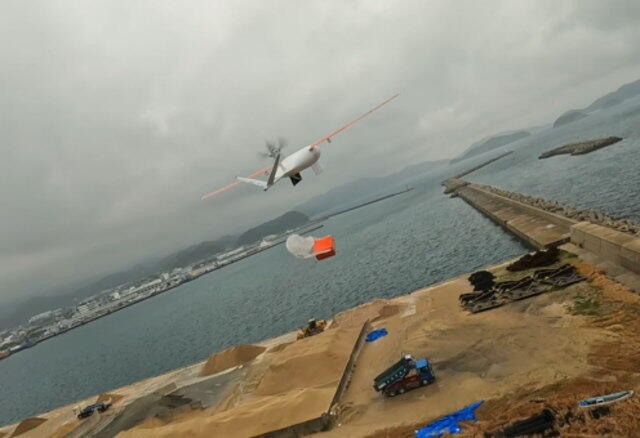 *1  TOSHICHI: https://www.toshichi.net/ (in Japanese)
   SHOYAKU CO., LTD.: https://www.shoyaku.com/ (in Japanese)
   MIYAZAKI ONSENDO SHOTEN CO. Ltd: http://www.shinyoforest.co.jp/ (in Japanese)

<Zipline's Announcement Regarding This Matter is available at https://flyzipline.com/press>



Zipline "About" Information
About Zipline: Zipline is the global instant logistics leader. Our purpose is to inspire possibility, transform systems and serve all people equally. We design, manufacture and operate the world's largest automated on-demand delivery service, which to date has made more than 290,000 commercial deliveries containing more than 5 million units of vaccines and other medical products, reducing delivery emissions by 98% compared to traditional methods. Zipline is the trusted partner for governments, global brands and leading health care systems. For more information, visit flyzipline.com.



<Our Efforts So Far>
- March 31, 2021 release: Toyota Tsusho Corporation & Zipline Enter Strategic Operational Partnership in Japan
https://www.toyota-tsusho.com/english/press/detail/210330_004792.html

- May 20, 2019 release: Toyota Tsusho Invests in U.S. Zipline International Inc.
https://www.toyota-tsusho.com/english/press/detail/190520_004379.html
The information in this release is current as of the date of announcement.
Please note that information may change after the date of announcement. Thank you in advance for your understanding.