Investment in APB Corporation's Development of the All Polymer Battery, the Next-generation Lithium-ion Battery
Toyota Tsusho Corporation ("Toyota Tsusho") announces that it has invested in APB Corporation ("APB"), a company engaging in the development, manufacturing and sales of the all polymer battery, a next-generation lithium-ion battery, by means of third-party allocation of new shares.
1. APB Corporation
APB is a startup manufacturing and marketing the all polymer battery, a bipolar-stacked lithium-ion battery that requires less components.

The all polymer battery is a next-generation lithium-ion battery with nearly all of its parts, including electrodes, made with polymer. Use of polymer for both cathode and anode shortens the manufacturing process in comparison to conventional lithium-ion batteries. The unique production process not only reduces production cost and lead time but realizes greater safety and energy density. The polymer used in the battery facilitates easier creation of thick-film electrodes, and enables increase in cell size and greater versatility in shape.
2. Objective and background
Through this investment, Toyota Tsusho plans to support the commercialization of the world's first all polymer battery by APB. In addition, the knowledge and sales network of the Toyota Tsusho Group will be utilized to promote sales of APB products in a broad range of areas, including use in large, stationary power sources and in motor vehicles in the future, and ultimately to contribute to creation of a society that is both sustainable and comfortable.
Comparison of battery structure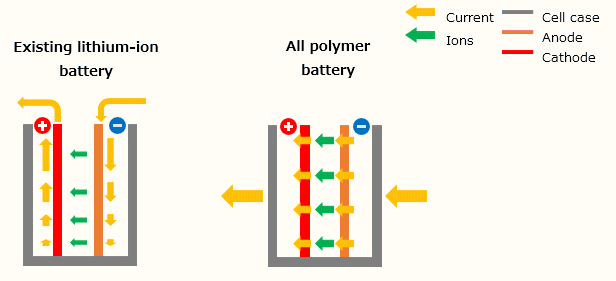 *Bipolar-stacked lithium-ion battery
Bipolar structure is configured to make the electric current flow perpendicular to the electrode plane, unlike the conventional lithium-ion battery structure in which the current flows parallel to the electrodes. This structure enables use of polymer current collector that has higher impedance for both cathode and anode and improves safety. Furthermore, the battery cells can be connected sheet by sheet in series, cutting down the number of parts vis-a-vis conventional lithium-ion batteries and simplifying the production process.
About APB Corporation
| | |
| --- | --- |
| | October 2018 |
| | Hideaki Horie |
| | R&D, production and sales of lithium-ion batteries |
| | 1-3-9 Kanda Sudacho, Chiyoda-ku, Tokyo |
| | https://apb.co.jp/ |