Toyota Tsusho Prevents the Spread of COVID-19 in Africa
- Providing medical supplies, and maintenance parts for the Toyota vehicles that support people's lives -
2020-06-04
Toyota Tsusho Corporation (Toyota Tsusho) and its group company CFAO SAS (CFAO) announced a number of initiatives aimed at preventing the spread of COVID-19 in Africa. The two companies will provide maintenance parts for Toyota vehicles, face shields, disinfectant, and food products to United Nations (UN) agencies operating in Africa, as well as governmental and public institutions across the continent.

These initiatives form part of the Kokoro Hakobu Project*, through which the entire Toyota Group works together to provide support to health care professionals and national and local government employees working hard day and night to prevent the spread of COVID-19.

COVID-19 is slowly coming under control in Europe and the U.S. However, infections are going forward in Africa, there are fears that the disease will lead to profound economic stagnation, a deterioration in medical environments, and worsening food shortages.

Toyota Tsusho Group is expanding its business in Africa with the long-term vision of cultivating deep local roots and growing together with local communities based on its philosophy of "WITH AFRICA FOR AFRICA". In line with this philosophy, the Group is providing the assistance outlined below in order to help prevent the spread of COVID-19.
Overview of support activities
Contents of support
Recipients of support
Cooperating companies
Current state
・Provision of maintenance parts for Toyota vehicles for a year
・Face shields
・United Nations High Commissioner for Refugees (UNHCR)
・Other UN agencies
・Toyota Group
Scheduled to begin in July

・Free vehicle leasing
・Vehicle maintenance parts
・Hygiene masks
・Face shields
・Alcohol disinfectant
・Food products

・National and local governments
・Medical organizations
・Public transport organizations
・Toyota dealerships across Africa
・Local CFAO subsidiaries

Activities already begun
Toyota Tsusho and CFAO, with the support of Toyota Motor Corporation, will provide maintenance parts free of charge for Toyota Land Cruisers owned by UN agencies in Africa, and will also provide face shields manufactured by the Toyota Group. In addition, in collaboration with Toyota dealerships across Africa, the companies have started providing free vehicle leasing services and maintenance parts to national and local African governments, and other organizations; in Côte d'Ivoire and the Republic of Congo, the companies are utilizing the multipurpose factory and the beer factory they possess to produce and supply alcohol disinfectant.

Going forward, the Toyota Tsusho Group will continue to use its global networks and resources to help prevent the spread of COVID-19.


| | |
| --- | --- |
| | The Kokoro Hakobu Project (with "Kokoro Hakobu" meaning "to carry or deliver one's heart" in Japanese) has been the collective name of nationwide initiatives by Toyota, Toyota sales outlets in Japan, and their employees to provide continuous and long-term support to disaster-affected areas in the wake of the Great East Japan Earthquake. The name has the connotation of "carrying you in our hearts." Based on Toyota's desire to contribute in some way to people who have contracted and are suffering from COVID-19, as well as to the medical professionals, Japan's central government, and local governments in Japan fighting the disease night and day, Toyota has decided to apply "The Kokoro Hakobu Project" as its overall moniker for related support activities conducted by Toyota Group companies working together. |
Support activities aimed at preventing the spread of COVID-19 in Africa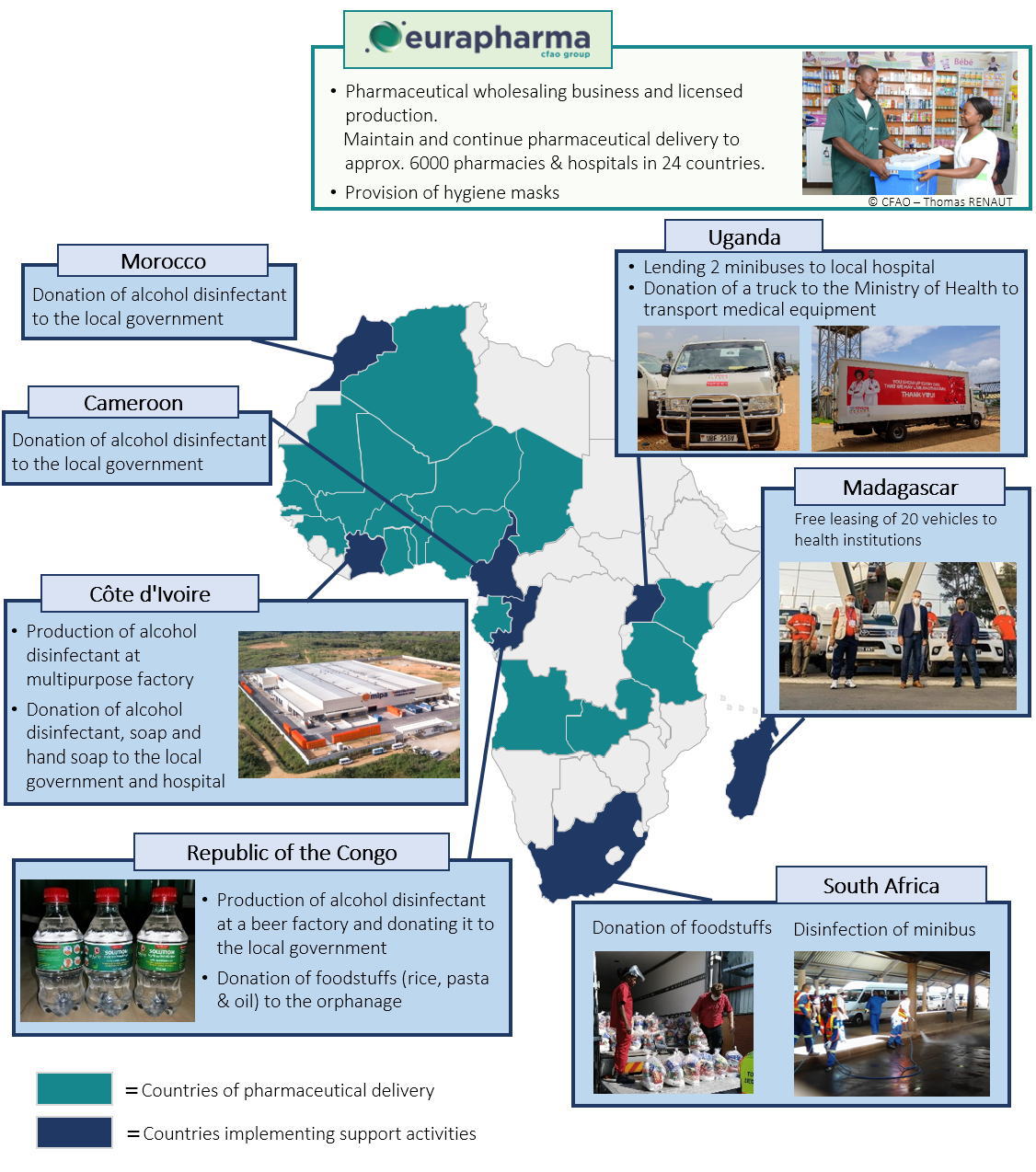 The information in this release is current as of the date of announcement.
Please note that information may change after the date of announcement. Thank you in advance for your understanding.