Toyota Tsusho to Repair Myanmar's Sedawgyi Hydropower Plant
-Contributing to the country's development through the establishment of a more stable power supply-
Toyota Tsusho Corporation (Toyota Tsusho) announced today that, it has been signed with Electric Power Generation Enterprise, under the umbrella of Ministry of Electricity and Energy, Republic of the Union of Myanmar (Myanmar) to repair its Sedawgyi Hydropower Plant. Worth approximately 4.3 billion yen, this project will be funded by Official Development Assistance (ODA) Loan via the Japan International Cooperation Agency (JICA). It is scheduled for completion in February 2024.
1. The power environment in Myanmar
In Myanmar, economic growth has led to increased demand for electrical power and, for this reason, securing supply capacity has become increasingly important. Approximately 60 percent of the country's electrical power demand is supplied by hydropower plants; however, the facilities at the majority of these plants are facing reduced outputs due to aging, and planned power outages are a regular occurrence.

Sedawgyi Hydropower Plant is located approximately 100 kilometers northeast of Mandalay, the second largest city in Myanmar, and provides between 10 and 15 percent of the city's power demand (it has a power generation capacity of 130 gigawatt-hours per year). The plant commenced operations in 1989 but, in the 30 years since, it has yet to be repaired. For this reason, deterioration of and damage to the plant's core equipment are significant issues.
2. Project details
The project entails the repair of Sedawgyi Hydropower Plant's core equipment—including its hydro-turbines and generators—and its hydraulic gates. The hydro-turbines and control devices will be supplied by Toshiba Energy Systems & Solutions Corporation, while the generators will be supplied by Meidensha Corporation; Equipment for repair of hydraulic gate will be supplied by Hitachi Zosen Corporation. The goal of the project is to restore the output of Sedawgyi Hydropower Plant and enable its continued use as a stable source of power.

As Myanmar's economic growth continues, so its energy infrastructure becomes increasingly important. By promoting the use of renewable energies such as hydroelectric power, Toyota Tsusho intends to contribute to the country's development.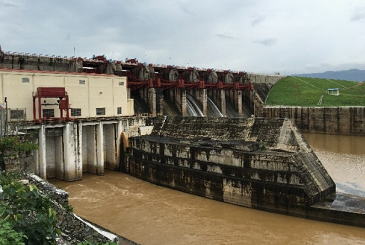 Project outline
Power plant name

Sedawgyi Hydropower Plant

Location

Sedawgyi Township, Mandalay Region, Republic of the Union of Myanmar

Project owner

Electric Power Generation Enterprise, Ministry of Electricity and Energy

Contract outline

Power plant repair, dispatch of technical advisors
・Repair of core equipment, including hydro-turbines and generators, and
of hydraulic gates
・Technical guidance for repair work

Date of completion

February 2024 (scheduled)