Maruti Suzuki and Toyota Tsusho to set up Vehicle Dismantling and Recycling unit
2019-11-06
New Delhi, 06 November 2019: Maruti Suzuki and Toyota Tsusho Group, today announced setting up one-of-its-kind vehicle dismantling and recycling joint venture, Maruti Suzuki Toyotsu India Private Limited (MSTI). The joint venture is between Maruti Suzuki India Limited (MSIL) and Toyota Tsusho Group (Toyota Tsusho Corporation (TTC) and Toyota Tsusho India Private Limited (TTIPL)) with each owning a 50% equity.

Headquartered in New Delhi, Maruti Suzuki Toyotsu India Private Limited (MSTI) is established to set up its vehicle dismantling and recycling unit in Noida, Uttar Pradesh within 2020-21.

MSTI will be responsible to procure and dismantle End-of-Life Vehicles (ELVs). The process will include complete solid and liquid waste management as per the Indian laws and globally approved quality and environment standards.

The facility in Noida will be the first unit by MSTI and the JV will add more such units across India.

The unit will have an initial capacity to dismantle around 2,000 vehicles per month. MSTI will source vehicles from dealers as well as directly from customers.

Announcing the initiative Mr. Kenichi Ayukawa, Managing Director & CEO, Maruti Suzuki India Limited, said, "Maruti Suzuki strongly believes in responsible recycling of vehicles after end of its useful life. Through this Joint Venture, MSTI, we aim to promote recycling and support in resource optimization and conservation while using environment friendly systems and processes. Scrapping of older vehicles in a scientific and environment friendly manner will help to reduce pollution and also make the roads safer. A team of experts at MSTI will dismantle the vehicles using international technology and global standards."

At the occasion Mr. Naoji Saito, CEO (Metal Division), Toyota Tsusho Corporation said, "Toyota Tsusho has started ELV recycling since 1970`s in Japan. We believe that we will be able to contribute to Indian society through our knowledge and experience for ELV business. The first vehicle dismantling and recycling unit of MSTI is just the initial step and we are eager to expand to pan-India base with Maruti Suzuki."
About Maruti Suzuki India Limited
Maruti Suzuki India Limited, a subsidiary of Suzuki Motor Corporation (SMC), Japan is a leading passenger vehicle maker in India. In terms of production volume and sales, the Company is now SMC's largest subsidiary. SMC currently holds 56.21% of its equity stake. It is a public limited company and its shares are traded at the National Stock Exchange (NSE) and the Bombay Stock Exchange (BSE). The Company has two state-of-the-art manufacturing facilities located in Gurugram and Manesar in Haryana, with a combined annual production capacity of ~1.58 million units per annum. Highly efficient lean manufacturing processes together with a skilled and motivated workforce leads to the manufacture of reliable and quality products. Suzuki Motor Gujarat Private Limited (SMG), a subsidiary of SMC, was set up in Hansalpur, Gujarat to cater to the increasing market demand for the Company's products. Through this new facility, an additional annual production capacity of 0.5 million units has been made available, thereby taking the combined production capacity to over two million vehicles. It offers a wide range of cars across different segments. The portfolio includes 16 brands and over 150 variants. The Company is committed towards sustainable use of natural resources, reducing the impact of its business operations and products on the environment. For this the Company has taken several initiatives e.g. focus on reducing the use of raw material, nearly eliminating use of ground water, harnessing solar power for vehicle manufacturing, introduction of alternate fuel vehicles (CNG) and smart hybrid vehicles. The Company does not use Substance of Concern (SoC) in its products and since 2018-19 it has adopted the globally acclaimed International Material Data Systems (IMDS). Maruti Suzuki also became the first company to introduce a range of BS6 compliant vehicles, ahead of the government stipulated deadline.
About the Toyota Tsusho Group
Toyota Tsusho has long development its business with functions tailored to customers' needs and with original added value by leveraging its general trading and project management company functions, such as information collection and the logistics and financial functions necessary to import / export and broker domestic business transactions. We are also engaged in the development and investment business, working with partners all over the world to accelerate investment in fields in which future growth is expected.

More information, please visit https://www.toyota-tsusho.com/english/

A representative picture of Vehicle Dismantling and Recycling unit of Toyota Tsusho's technical alliance partner in Japan.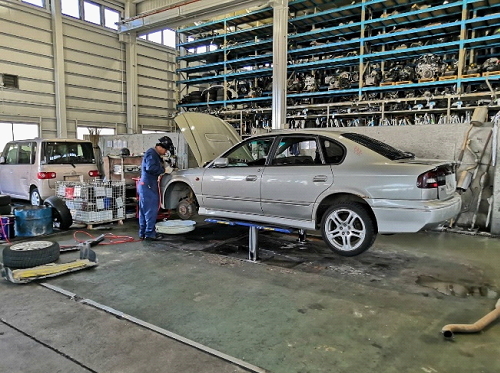 Overview of Maruti Suzuki Toyotsu India Private Limited
| | |
| --- | --- |
| Corporate Name | Maruti Suzuki Toyotsu India Private Limited (MSTI) |
| Location | Noida, Uttar Pradesh |
| Established | October, 2019 |
| Employees | Approximately 50 (initially) |
| Business Description | Procure, Dismantle and process End-of-Life Vehicles (ELVs), Sell the scrap |
The information in this release is current as of the date of announcement.
Please note that information may change after the date of announcement. Thank you in advance for your understanding.