Toyota Tsusho to Lead Demonstration Projects of ELV Recycling in Thailand
-Aiming to build an environmentally conscious recycling society-
2019-07-04
Toyota Tsusho Corporation ("Toyota Tsusho") announced today that on June 12, 2019 it was formally entrusted by New Energy and Industrial Technology Development Organization ("NEDO") to establish an Efficient and Suitable Resource Recycling for End-of-Life Vehicles in Thailand. The project is part of a series of demonstration tests funded by NEDO to support the introduction of energy-efficient recycling systems in Asia. In February 2019, NEDO concluded an MOU for the demonstration tests with THE MINISTRY OF INDUSTRY OF THE KINGDOM OF THAILAND (MOI) and the Industrial Estate Authority of Thailand (IEAT).
In Thailand, car sales began to surge around 2010, and consequently, the number of end-of-life vehicles (ELV) is expected to surge in coming years. There are serious concerns, however, about the environmental impact of ELVs because of the lack of an effective infrastructure to process them. The release of chlorofluorocarbon gases would worsen global warming, and improperly discarded waste oil and other liquids would cause soil and water pollution. Furthermore, in contrast to Japan, which has an automobile recycling law, Thailand lacks a legal framework to authorize ELV recycling. Prior to the surge in ELVs, it will be important for Thailand to put in place an infrastructure to effectively process ELVs, with measures to develop both recycling systems and technological solutions.
Toyota Tsusho will carry out the following demonstration projects.

System implementation
Toyota Tsusho will plan the design of effective ELV recycling systems for Thailand.

Technology implementation
(1) Establish environmentally conscious dismantling system to manage the collection of chlorofluorocarbon gases and other hazardous materials.
(2) Introduce dismantling equipment from Japan and raise the efficiency of dismantling processes.
(3) Raise the value of each ELV by using Japanese technology to recycle valuable metals which cannot be recovered through local recycling processes.

Toyota Tsusho will conduct demonstration projects to establish a resources recycling system which is both environmentally conscious and economically efficient. These activities will also support the Toyota Environmental Challenge 2050.
Roles of participating companies
| | |
| --- | --- |
| Toyota Tsusho | Design the demonstration tests |
| Green Metals (Thailand) Co., Ltd. | Construct a model plant for ELV dismantling and evaluate the plant technology |
| TDEM*1 / TMT*2 | Support the establishment of a car recycling system in Thailand |
| Toyota Motor Corporation | Provide consulting on car recycling systems |
| Dowa ECO-System Co., Ltd. | Provide consulting on waste recycling in Thailand |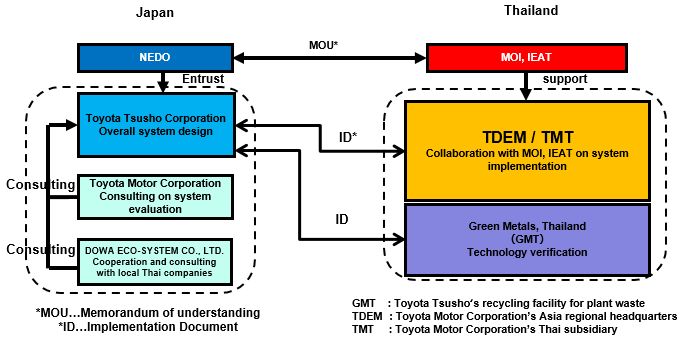 | | |
| --- | --- |
| TDEM*1 | Toyota Daihatsu Engineering & Manufacturing Co., Ltd. |
| TMT*2 | Toyota Motor Thailand |
The information in this release is current as of the date of announcement.
Please note that information may change after the date of announcement. Thank you in advance for your understanding.