Toyota Tsusho Invests in Taiwanese Automotive Motor Manufacturer FUKUTA ELEC. & MACH.
-New entry into automotive motor manufacturing business-
2019-03-15
Toyota Tsusho Corporation ("Toyota Tsusho") hereby announces it has invested in FUKUTA ELEC. & MACH. CO., LTD. ("FUKUTA")--a Taiwanese company in the automotive motor manufacturing business--by acquiring a stake in the company through Toyota Tsusho (Taiwan) Co., Ltd.
1. Background and purpose of investment
Against the backdrop of exhaust gas regulations and environmental issues, the spread of electric vehicles—such as EV and PHV—is accelerating globally, and together with this, the demand for automotive motors is expected to significantly increase. Specifically in China, the new energy vehicle (NEV) regulation has started in January 2019, and amid the spread of NEVs, the production of NEVs in China is expected to accelerate. It is expected to be the largest market for electric vehicles from both aspects of demand and supply. Taking into consideration future market growth, Toyota Tsusho decided to make its first entry into the business of manufacturing motors—an essential part of electric vehicles—and the processing of motor cores, which is a core component.
2. About FUKUTA ELEC. & MACH. CO., LTD.
Established in 1988, FUKUTA is a Taiwanese manufacturer with a high level of technological development capability and processing expertise with regard to motor manufacturing as well as a track records in sales. Traditionally, motor manufacturing is divided into separate parts, with several companies involved in the completion of a motor. However, FUKUTA makes its own molds, and is able to carry out the entire process from motor component processing to assembly. It therefore has advantages in terms of costs and short manufacturing lead time. In addition, it has a track record in manufacturing mass-produced products due to having technologies and development capabilities allowing it to collaborate with manufacturers of electric vehicles.
Since 2017, Toyota Tsusho has been taking on the sales and marketing activities for FUKUTA's products. Moving forward, the relationship between the two companies will be strengthened, and at the same time, the two companies will cooperate in the introduction of the latest technologies as well as the building of supply chain for electric products for motors and raw materials to work toward further improving FUKUTA's technological strength. In the future, Toyota Tsusho aims to enter the Chinese market by cooperating with FUKUTA.
Overview of FUKUTA ELEC. & MACH. CO., LTD.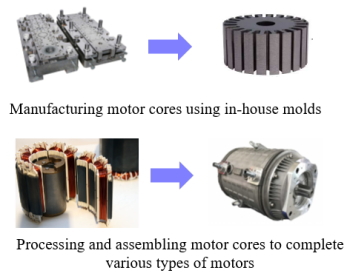 | | |
| --- | --- |
| Company name | FUKUTA ELEC. & MACH. CO., LTD. |
| Address | No.18, Fenggong S. Rd., Shengang Dist., Taichung City, Taiwan |
| Established | 1988 |
| Representative | Managing Director Gordon Chang |
| Capital | NT$400 million (approximately \1.45 billion |
| No. of employees | 300 |
| Business description | Manufacturing and development of motors and motor cores for electric vehicles |
The information in this release is current as of the date of announcement.
Please note that information may change after the date of announcement. Thank you in advance for your understanding.