Using AI and IoT, University Aquaculture Research Institute is challenging to establish automated streamline of Aquaculture Cultivation Selection
- Aiming to expand "Workstyle Innovation" of fishery industry with cloud and digital technology -
The Kindai University Aquaculture Research Institute (Shirahama, Wakayama Prefecture), Toyota Tsusho Corporation (Nagoya, Aichi Prefecture) and Microsoft Japan(Minato, Tokyo) have collaborated together to develop the system of new aquaculture selection system. With using Artificial Intelligence (AI) and the Internet of Things (IoT) technology, the manual process of selecting fingerling for cultivation needed to be automated. Today we three organizations has announced that have begun this aquaculture selection system proof-of-concept experiment.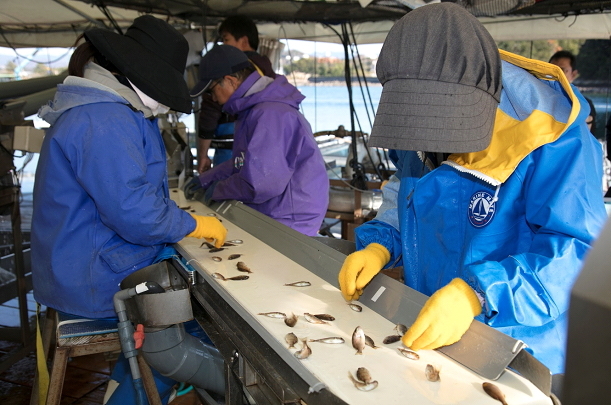 Key Points
● Apply AI and IoT digital technologies to the process of selecting aquaculture to cultivate and streamlining the overall process

● Aiming to revolutionize their "workstyle innovation" to the primary industry of fishing through streamlining of aquaculture cultivation selection

● To automates pump regulation, a necessity for aquaculture selection, in real-time in order to achieve the most efficient workflow as a 1st phase.
Summary
The Kindai University Aquaculture Research Institute has up to this point engaged in aquaculture research of a large number of different kinds of marine life such as the study of the species they have dubbed the "Kindai Tuna," but the most fundamental pillar of the organizations research until now has been their study of Pagrus major cultivation. Currently, as part of their research, the organization's hatchery center is producing fingerlings and has worked to capitalize and sell fingerlings to cultivators through the venture company "A-Marine Kindai", Co.,Ltd. The company provides 24% of all Pagrus major cultivated in Japan, the number is around 12 million each year.

So far, the selection work by the expert worker was done before the fingerlings was shipped, and only the fish which met the standard such as removing the one of the growth failure was sorted. But the much experience and the concentration of the expert worker to do by the examination and the manual are highly demanded, The physically burden to the workers themselves was so heavy, and automation was a long-term issue.

Therefore, Toyota Tsusho and Microsoft Japan works together with Kindai in planning and developing an automated system that, using AI and IoT, that combined image analysis with machine learning technology that would automatically select cultivated marine life, and that project is currently in proof-of-concept experiment.
Roles of Each Company
Toyota Tsusho has developed the hardware design and prototyping of automated systems based on the knowledge and experience of the specific selection process conducted at the Institute, including the full aquaculture of bluefin tuna for many years with the Fisheries Research Institute of Japan.

Microsoft Japan, designed and developed an automated system to regulate pump flow in real time by utilizing not only their cloud platform Microsoft Azure IoT function, and AI function Microsoft Cognitive service and Machine Learning.
Current status of research
Typically, aquaculture selection sees cultivated marine life sucked up from a fish tank through a pump and placed onto a conveyor belt which then passes before workers wherein they determine visually whether or not individual specimens have growth deficiencies and thereby select good specimens. The most important role here is the person who is responsible for regulating the flow of the pump; if the pump suck too much water, there will be too many fingerlings on the conveyor belt, and experts will be difficult to catch up processing. On the other hand, if the amount of water is too small, then there will fall overall efficiency.

The automated selection system has started and currently been under development status with tackling the first phase of automating pump control. The area that indicates fish and the space between these areas is visually analyzed by Microsoft's AI technology, thereby analyzing the number of fishes in a set area. Moreover, machine learning technology is used to study the work load of selectors wherein optimal values for that work were computed and prototype software for automating pump control created. At present, At present, we continue to conduct experiments, collect and analyze data, and implement improved control systems, and aiming into real production environments by March 2019.
Outline of Aquaculture Fingerlings Selection System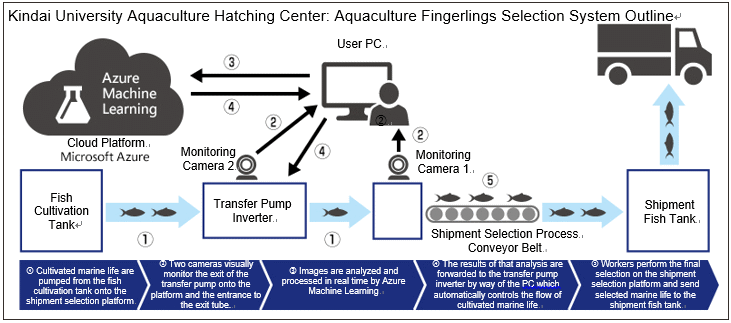 Future Development
As the second phase of the project after the pump control system, we are planning to automate the combination of image analysis and machine learning in the work to remove the poor growth fingerlings that are currently judged by human visual observation.

Toyota Tsusho and Microsoft Japan will continue to provide technical assistance and further development of new systems on this project, and we will propose new way of solutions using AI and IoT technology to improve manual labor intensive industries such as primary industries.

Ultimately, by automating and mechanizing a simple selection process with IT, we keep aiming to reduce the burden placed workers and improve operations. In addition to this, we will keep contribute to their "Workstyle innovation" in primary industry of fishery that are currently suffering from a lack of young human resources such as effective use in a new field.

* Microsoft, Azure , and all other foreign subsidiaries of Microsoft Corporation are registered trademarks.

* Other company and/or product names that appear in this article [release] are registered trademarks of their respective owners.
[Kindai Univesity]
| | |
| --- | --- |
| Address | 3-4-1 Kowakae, Higashi-Osaka, Osaka |
| University President | Yoshihiko Hosoi |
| University Overview | A private university with 14 faculties and 48 departments across all different disciplines, from medicine to fine arts, spanning 6 campuses nationwide, making it one of largest universities in the Japan. |
| Founded | 1925 |
| Number of students | 33,614 students (as of May, 2018) |

[Toyota Tsusho Corporation]
| | |
| --- | --- |
| Address | 9-8, Meieki 4-chome, Nakamura-ku, Nagoya |
| President | President & CEO Ichiro Kashitani |
| Descrioption of Business | Domestic trading of various goods, import and export transactions, international trade, construction contracting, insurance agency business, etc. |
| Founded | July 1, 1948 |

[Microsoft Japan Corporation]
| | |
| --- | --- |
| Address | Shinagawa Grand Central Tower, 2-16-3 Konan, Minato, Tokyo |
| President & CEO | Takuya Hirano |
| Descrioption of Business | Software, cloud service, and digital device trade and marketing |
| Founded | February, 1986 |