Shipbuilding Order for Two Harbor Work Ships Received from Iraq
-Delivery of Japanese quality ships to be built at Japanese shipyard in Sri Lanka-
Toyota Tsusho Corporation ("Toyota Tsusho") signed a shipbuilding contract worth approximately 5.4 billion yen with the General Company for Ports of Iraq ("GCPI"), a public company operated under the Iraqi Ministry of Transportation, for the supply of 2 harbor work ships. This contract is a part of Phase 2 of the Iraqi Port Sector Rehabilitation Project, which the Japanese Government has been conducting since 2008. It is a yen loan project.
1. Background
In Iraq there are a number of post-war rehabilitation and reconstruction projects being carried out. Port and harbor operations are also closely linked to these reconstruction projects. At present, the country is using the Umm Qasr Port, the biggest port in Iraq, and the Khor Al-Zubair Port, an import-export base, as its major ports. Phase 1 of the rehabilitation project consisted of dredging work and the removal of sunken ships at Umm Qasr Port to revive port functions and improve efficiency. These efforts have led to an increase in the amount of cargo being handled at this port. In Phase 2 of this project, Khor Al Zubair Port, Iraq's import-export base, is undergoing renovations and maintenance.
2. Project overview
The ships to be built and supplied by Toyota Tsusho are a Buoy Tender Vessel*1 and a Pilot Station Vessel*2. These two vessels will be used at both the Khor Al Zubair Port and Umm Qasr Port. The shipyard where the ships are to be built is in Sri Lanka. It is run by Colombo Dockyard PLC, in which Japanese Onomichi Dockyard Co., Ltd maintains 51% ownership. The goal is to deliver harbor work ships that leverage many years of experience in shipbuilding and Japanese technology and knowhow. Toyota Tsusho will contribute to the economic revitalization of Iraq by supplying a Buoy Tender Vessel, which deploys buoys necessary for safely navigating ships, and a Pilot Station Vessel, which will transport workers to offshore oil export facilities in the Gulf of Basra.
3. Activities in Iraq
In 2010, Toyota Tsusho entered a contract with GCPI to supply 2 dredging ships, which were delivered in 2012. This was part of Phase 1 of the Iraqi Port Sector Rehabilitation Project. In Phase 2 of this project, in June 2017 Toyota Tsusho received an order and contract, from GCPI for ground equipment used at ports. Prior to this, in March 2017 an order was also received for the construction of a substation funded by capital from the Japan Bank for International Cooperation (JBIC). Toyota Tsusho is continuing to actively undertake the infrastructure development project in Iraq to contribute to the reconstruction and development of the country.
※1 Buoy Tender Vessels are used to install buoys for marine security
※2 Pilot Station Vessels are used to transport workers to offshore oil export facilities.
[Summary of Contract]
| | |
| --- | --- |
| Client | General Company for Ports of Iraq (operated under the Iraqi Ministry of Transportation) |
| Contract Amount | Approximately 5.4 billion yen |
| Items to be supplied | One (1) Buoy Tender Vessel, one (1) Pilot Station Vessel, salvage equipment, spare parts and training |
| Supplier | Colombo Dockyard PLC |
| Scheduled delivery date | April 2020 (Scheduled) |
[Reference]
[Umm Qasr Port and Khor Al Zubair Port]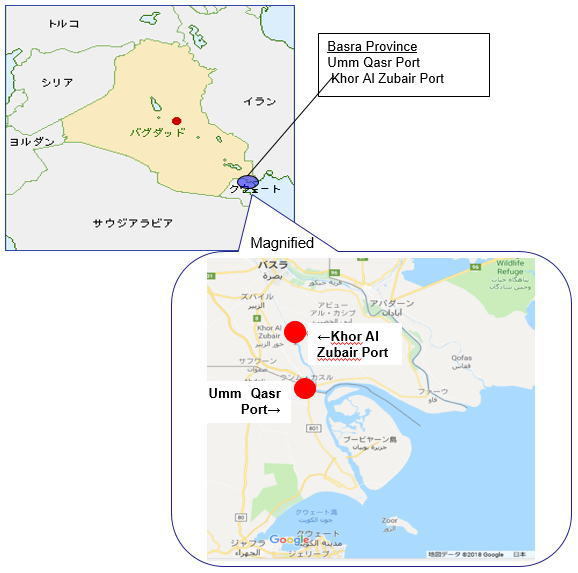 [Work Vessels]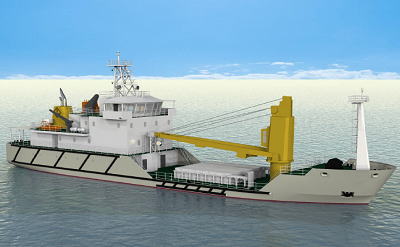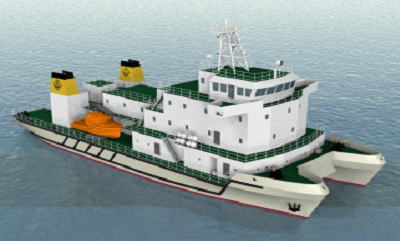 Images courtesy of MTX Marine Design & Consultants