Toyota Tsusho to Invest in AeroEdge, an Aircraft Engine Parts Manufacturer
-Contributing to Improving Japan's International Competitive Power in Aircraft Engine Industry-
Toyota Tsusho Corporation (Toyota Tsusho) hereby announces that it has invested in AeroEdge Co., Ltd. (AeroEdge, head office: Ashikaga-shi, Tochigi, Japan, President & CEO: Jun Morinishi), a manufacturer and distributor of aircraft engine parts, by receiving shares issued by a capital increase through third-party share allocation implemented by the company.

This third-party share allocation to a total of six companies including Toyota Tsusho will comprise a sum value of approximately 2.2 billion yen. The aim is to further enhance the production system and establish and improve the presence of AeroEdge in the global market so that it can respond to increased production demand for aircraft engine parts as aircraft demand expands worldwide.
1. Environment surrounding the aircraft industry in Japan
Private aircraft markets around the world have exhibited annual growth of 5% due to strong customer demand in emerging countries and increased freight translation. Aircraft demand is also in an increasing trend year-by-year accompanying this situation, with growth of approximately two-fold predicted for the next 20 years. For each aircraft, which is said to be composed of 3 million parts, there is an extremely large number of suppliers around the world, including completed aircraft manufacturers and completed engine manufacturers. As this market expands, new suppliers are successively entering the market. (According to research by the Japan Aircraft Development Corporation).

Japanese manufacturers have exhibited a fixed presence mainly in the field of airframe structure (body and main wing etc.) and engines. It is expected that new suppliers will enter the aircraft industry within Japan, which is also anticipated to undergo growth going forward.
2. About AeroEdge
AeroEdge started from the aerospace business of Kikuchi Gear Co., Ltd., a gear manufacturer. It is a manufacturer and distributor of aircraft engine parts that became a separate company in 2015. It boasts strong expertise in processing and process planning for new difficult-to-machine materials that have been garnering attention in recent years, such as titanium aluminum. Titanium aluminum, which is light and highly rigid, are utilized for many uses outside of the aerospace field. However, because they are very difficult to machine, only a limited number of manufacturers worldwide are able to cut and process these materials. AeroEdge also has an integrated system from development, through manufacturing and quality assurance to respond to the aircraft industry, which has established and maintained strict quality control standards.

AeroEdge, which has concluded a long-term reception contract with Safran Aircraft Engines (France), a major aircraft engine manufacturer, is engaging in the manufacture of titanium aluminum low pressure turbine (LPT) blades to be fitted in the new private aircraft engine, LEAP*. It will start globally deploying business with the fitting of these LPT blades to the LEAP.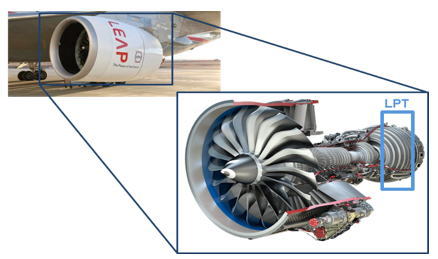 *Next-generation aircraft engine, LEAP, for mid-sized aircraft
Fitted in new aircraft A320neo (Airbus), B737MAX (Boeing) and C919 (Commercial Aircraft Corporation of China)
3. Background and aims of investment
Toyota Tsusho has entered the aircraft parts manufacturing business. In 2015, it established Asahi Kinzoku Kogyo Co., Ltd., which is involved in aircraft parts manufacturing, and Asahi Aero Malaysia SDN BHD. (AAM), which is involved in aircraft parts surface processing in Kuala Lumpur, Malaysia. It is also expanding its aviation-related business, engaging in operating airports such as Wattay International Airport in Laos and Sendai International Airport in Japan.

Going forward, Toyota Tsusho will contribute to vitalizing Japan's aviation industry by utilizing production and supply-chain management knowledge and overseas networks cultivated in its industrial support business including in the field of automobiles to support the overseas receipt of manufacturing by Japanese aircraft manufacturers including AeroEdge and transactions with Tier 1 manufacturers.
Profile of AeroEdge Co., Ltd.
Company name

AeroEdge Co., Ltd.

Head office location

482-6 Teraokacho, Ashikaga-shi, Tochigi Prefecture

Date of establishment

September 16, 2015

Representative

President & CEO: Jun Morinishi

Capital

30 million yen

Employees

74 (as of October 1, 2017)

Business objectives

Manufacture and distribution of aircraft parts

Acquired certifications

JIS Q 9100:2009
ISO9001: 2008
ISO14001: 2004