Entry into the Subcontracted Clinical Laboratory Business in Indonesia through Joint Venture with Southeast Asia's Largest Pharmaceutical Manufacturer
-Contributing to Early Detection and Treatment of Diseases through the First Clinical Laboratory Cen-
Health Sciences Research Institute, Inc. (HSRI) and Toyota Tsusho Corporation (TTC) have established, together with Indonesian healthcare conglomerate and Southeast Asia's largest pharmaceutical manufacturer PT. Kalbe Farma Tbk (Kalbe), a joint venture company, PT Innolab Sains Internasional (ISI), to provide subcontracted clinical laboratory services. Operations have begun at KALGen Innolab Clinical Laboratory, Indonesia's first clinical laboratory center operated with foreign investment.

In Indonesia, with a population of over 250 million, there is growing demand for quantitative expansion and quality improvement of medical services, supported by the country's favorable economic growth in recent years. Public medical insurance is also becoming more established, and the healthcare market is expected to continue growing in the future. In addition, the composition of disease is shifting from infectious diseases such as tuberculosis to lifestyle diseases such as cancer, stroke and cardiovascular disease. Consequently, the country's clinical testing service requirements are also changing. Under these circumstances, the laboratory will provide medical services based on Japanese know-how of early diagnosis and prevention of disease, which is of the highest standard in the world.

ISI will provide a subcontracted testing service for blood, urine, tissue and other samples collected from patients at medical institutions such as hospitals and clinics in Indonesia, and will provide these medical institutions with reports based on the results of laboratory testing. Specimen testing is a medical practice indispensable for identifying the cause and progression of diseases, such as through detection of organ function abnormality, of bacteria and viruses. It is also critical in medical support, such as for predicting drug side effects and for evaluating the effects of therapy.

Leveraging Kalbe Group's network with medical institutions throughout Indonesia, combined with HKK's efficient and high-quality testing know-how, cultivated over many years, the laboratory will introduce testing that has not previously been implemented in Indonesia, including cancer testing. TTC utilizes its business base in Indonesia to undertake sales activities and management support for Japanese and other healthcare facilities and corporate medical examinations.

Through this business, TTC aims to contribute to improvement of the standard of medical treatment in Indonesia and of the health of Indonesians, by creating Southeast Asia's number one testing center, in terms of both scale and technology.

HKK was the first commercial clinical testing center in Japan, established in 1950. As a pioneering clinical testing business, the institute has supported medical institutions and people's health. HKK has expanded its operations into various business domains, with the focus on clinical testing, under the philosophy of "Contributing to a healthier future." HKK will strive to develop medical infrastructure and human resources in Indonesia, as a professional supporting medical care and health.

By providing Japanese medical technology and services to emerging nations, TTC is promoting development of local medical care and deployment of medical peripheral services as one business area in the field of Life & Community, under the company's new Global Vision established in May 2016. In the future, through this project, TTC will contribute to the realization of a comfortable and healthy society for the people of Indonesia.
KALGen Innolab Clinical Laboratory Overview
Corporate Name

KALGen Innolab Clinical Laboratory

Location

Jakarta, Indonesia
ALTIRA Business Park, Jl. Yos Sudarso Kav.85
Sunter Jaya, Tanjung Priok, Jakarta Utara, 14350

Commencement

December 2017

Business scope

Subcontracted clinical laboratory testing in Indonesia

Employees

- Approx. 60 (current at December 2017)
- Approx. 120 (anticipated in fifth year)

Business partners

- Approx. 300 hospitals and research facilities (current at December 2017)
- Approx. 1,200 hospitals* and research facilities (anticipated in fifth year)
*Approx. 50% of hospitals in Indonesia

Operating company

PT. Innolab Sains Internasional

Establishment

April 2016

Capital

31,668 million rupiah (approx. 300 million yen)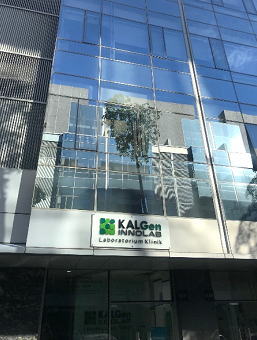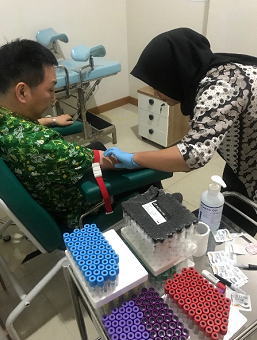 Reference

| | |
| --- | --- |
| Corporate Name | Health Sciences Research Institute, Inc. |
| Location | 106 Godo-cho, Hodogaya-ku, Yokohama |
| President | President & Chief Executive Officer Yoshizo Kugawa |
| Capital | 97 million yen |
| Business scope | Clinical laboratory testing, health screening, clinical trials, nursing care, overseas operations, etc. |

| | |
| --- | --- |
| Corporate Name | Toyota Tsusho Corporation |
| Location | 9-8, Meieki 4-chome, Nakamura-ku, Nagoya |
| President | President & Chief Executive Officer Jun Karube |
| Capital | 64.936 billion yen |
| Business scope | Domestic trading of various goods, import and export transactions, international trade, construction contracting, insurance agency business, etc. |

| | |
| --- | --- |
| Corporate Name | PT. Kalbe Farma |
| Location | Jl. Let. Jend. Suprapto Kav. 4. Jakarta. Indonesia |
| President | President Director Vidjongtius |
| Capital | 468.7 billion rupiah (approx. 4.2 billion yen) |
| Business scope | Manufacture and sale of pharmaceuticals and health foods, logistics services, etc. |