Toyota Tsusho Holds Ceremony to Launch Techno-park in Poipet, Cambodia
- Supporting manufacturing along the Southern Corridor -
Toyota Tsusho Corporation ("Toyota Tsusho"; Head office: Nagoya; President & CEO: Jun Karube) announces that Techno Park Poi Pet Pvt. Co. Ltd. ("Techno Park Poi Pet"), a wholly owned rental factory operator in Poipet, Cambodia, held a ceremony today at its site in the SANCO special economic zone to commemorate the start of rental factory operations.

Five companies have entered the techno-park since sales began in September 2016. The ceremony marked the approaching start of manufacturing operations by the companies. The attendees included His Excellency Sok Chenda Sophea, Minister attached to the Prime Minister and Secretary General, Council for the Development of Cambodia and other dignitaries, along with local high school students.

Cambodia has sustained a high economic growth rate of around 7% in recent years. The country's labor force is forecast to expand further, while foreign companies, primarily from Japan, are expected to establish labor-intensive manufacturing operations. Poipet City, the site of Techno Park Poi Pet, is situated along the so-called Southern Economic Corridor*, which traverses the Mekong region. Located near the border with Thailand, Poipet is approximately 230 km, or about four hours, from central Bangkok. With its proximity to Thailand, the region around the Southern Economic Corridor is commonly referred to as "Thai-Plus-One" to denote its status as a major part of manufacturing operations based in Thailand.

In addition to the traditional shared services offered by techno-parks, Techno Park Poi Pet has developed three innovative services for tenant companies.
(1) Staffing services (retraining agrarian workers as manufacturing workers through basic courses and dispatching them to tenant companies) (2) Customs clearance (3) Subcontracted processing (performing specific manufacturing steps and labor-intensive processes, etc.)

The techno-park business provides an environment in which companies entering the market can focus solely on manufacturing. The business contributes to reducing costs by minimizing up-front investments as well as mitigating various risks associated with market entry.
Toyota Tsusho's Techno-Park Business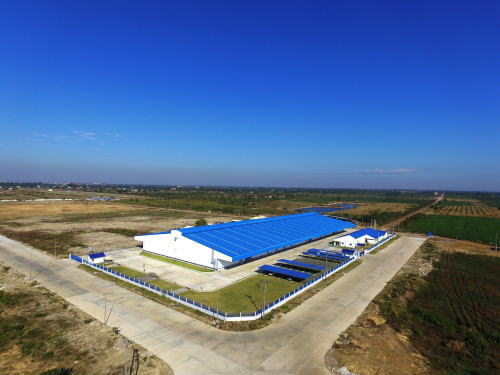 Seven sites in four countries around the world
India (two sites in Bangalore, one each in Chennai and Gujarat)
Thailand (Eastern Seaboard)
Indonesia (Karawang)
Cambodia (Poipet)

*Southern Economic Corridor: A transportation infrastructure network linking Dawei, Myanmar, Bangkok, Thailand, Poipet and Phnom Penh, Cambodia, and Ho Chi Minh, Vietnam.
Reference

Overview of Techno Park Poi Pet


Company name

Techno Park Poi Pet Pvt. Co. Ltd.

Representative

Takayuki Tatsuta, President (concurrently serving as General Manager, Toyota Tsusho Phenom Penh representative office)

Location

Poipet City, Banteay Meanchey Province, Cambodia (SANCO Special Economic Zone; approx. 230km east of Bangkok, Thailand, along the Southern Economic Corridor)

Plant area

7,200m2

Business description

(1)Rental of factories (including offices)
(2)Customs clearance and subcontracted processing
(3)Agent for administrative and other services, including provision of employee meals, general affairs, accounting, finance, human resources, and personnel dispatch, etc.



Establishment

May 2015

Capital

US$3.01 million (approx. ¥300 million)

Investment ratio

Toyota Tsusho, 100%