Toyota Tsusho Constructs Substation in Republic of Iraq
-Largest construction contract since war's end sets foundation for "Partnership for Quality Infrastructure"-
Toyota Tsusho Corporation ("Toyota Tsusho") has signed a contract with the Ministry of Electricity of Iraq to construct both stationary and mobile substations in the country. Worth approximately ¥60 billion, the contract covers engineering, procurement, and construction for four stationary substations and 12 mobile substations. This is the largest construction contract with a Japanese company since the end of the Iraq War in 2003.
1. Background
Iraq has suffered from chronic power shortages, with daily outages averaging between seven and eight hours. The country is building and upgrading power stations to expand and stabilize its electricity supply. This increase in power supply has created an urgent need for more substations.
2. Project Overview
Under the project, Toyota Tsusho will construct substations around the Iraqi capital of Baghdad and outside the major southern city of Basra, with completion scheduled for 2021. Toyota Tsusho will procure core equipment for the 400/132kV stationary substations from Toshiba Corporation and equipment for 132/33kV mobile substations from Meidensha Corporation. After completion, the substations are expected to provide power for a combined total of approximately 1.3 million households*.

The Japan Bank for International Cooperation (JBIC) and the Ministry of Finance of Iraq signed loan agreements on buyer's credit (export credit) to secure part of the funds for the project. The loan is co-financed with The Bank of Tokyo-Mitsubishi UFJ, Ltd. (lead arranger ) and Sumitomo Mitsui Banking Corporation. Nippon Export and Investment Insurance (NEXI) provides insurance for the portion co-financed by these two Japanese commercial banks.
3. Toyota Tsusho's History in Iraq
Toyota Tsusho opened an office in Baghdad in 1954 and became the first Japanese company to win an order for gas turbines from the Ministry of Electricity of Iraq in the 1970s. Since then, Toyota Tsusho has striven to support the establishment of a strong business foundation in Iraq through the construction of power substations and the provision of port cargo handling facilities, dredgers, and other equipment. Toyota Tsusho has designated Iraq as an important market for the development of electric power, energy, and infrastructure and will continue to contribute to the nation's infrastructure development.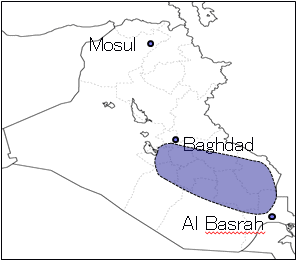 *Estimate based on average power consumption for a Japanese household.