Thoughts as an
Official Partner of Ghibli Park
Surely the moment a smile spills unbidden from your lips,
is a moment you are enjoying from the bottom of your heart.
Years from now, decades from now, even centuries from now,
we hope that children around the world will live each day full of smiles.
Toyota Tsusho dreams of such a future,
and it is this dream that brought us together with Ghibli Park.
At Toyota Tsusho, we aim to achieve a carbon neutral world by investing in our wind power
generation and recycling businesses.
We want to ensure the Earth, where future children will each play a leading role, stays
beautiful and prosperous forever.
心が、ひらく。-Open Mind-
A better global environment
to the children of the future.


Tie-up Movie
Ghibli Park Tie-up Movie
心が

、

ひらく

。
-Open Mind-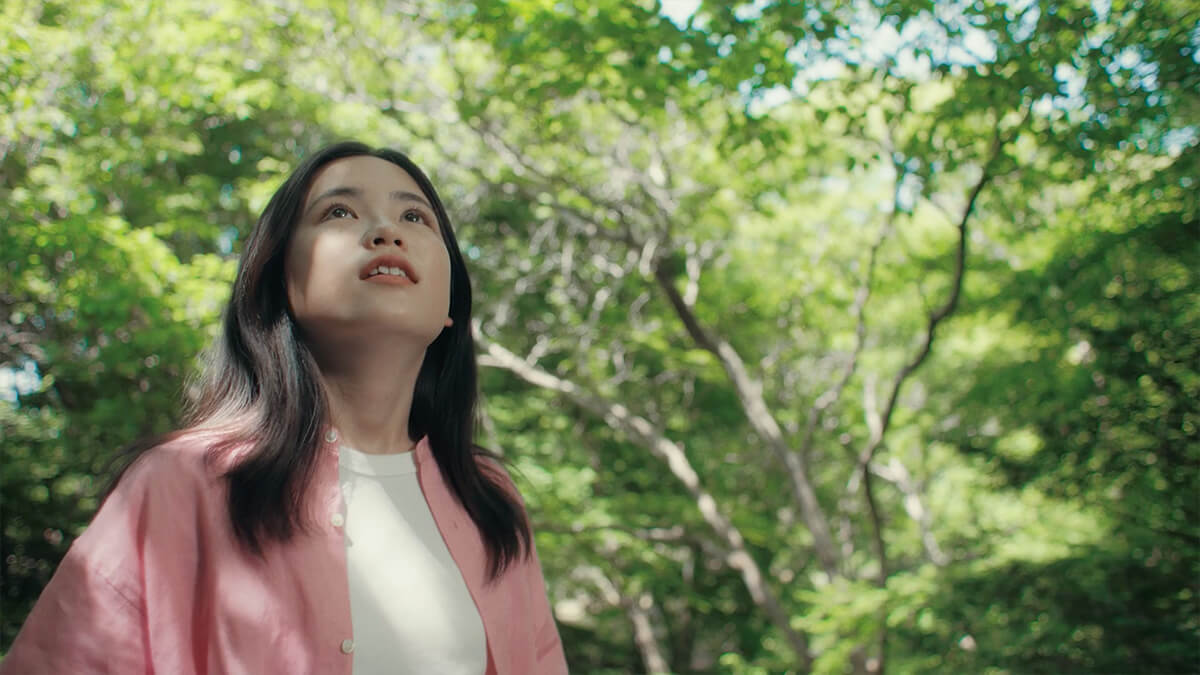 Short Movie (Full version)
CONCEPT
We partnered with Studio Ghibli to create a short movie set in Ghibli Park, which carries on the philosophy of EXPO 2005 AICHI JAPAN, and on the vast natural stage of the Expo 2005 Aichi Commemorative Park.
Through the main character's emotional journey as she explores her own unique world under the clear blue sky, lush greenery, and pleasant breeze, we hope to deliver a message about the future we are striving towards.
STORY
Sara, a fifth-grade elementary
school girl, visits Ghibli Park with her parents.
She has many friends and excels at physical activities.
Her grades aren't bad either, and
she has a rather cheerful
personality.
However,
lately she feels embarrassed to be with her parents.
This is when a fresh wind blows into her life.
An adventure all her own, that
brings a taste of the future...
Cast

Staff
Director/Screenplay

Chiaki Matsumoto
Toyota Tsusho's Initiatives
Toyota Tsusho's
Carbon Neutrality
Initiatives
*Kawaminami Wind Farm(courtesy of Eurus Energy Holdings Corporation)
Generating, Transporting,
Preparing, and Delivering
Renewable Energy
Contributing to Carbon Neutrality by Utilizing Renewable Energy
Toyota Tsusho, together with its group company Eurus Energy Holdings, is installing Japan's largest-scale storage battery system, power transmission and substation facilities, and wind power generation facilities in Hokkaido.
The power grid that carries electricity to where it will be consumed stretches for 78 km from Wakkanai City to the town of Nakagawa. Nine wind power plants have been built near the power grid and are scheduled to begin operation in phases.
The maximum power generation capacity will be 540,000 kW, which is about the same size as the current wind power generated throughout Hokkaido.
The storage batteries, which are installed to balance the supply and demand of electricity, which varies depending on the time of day, will have a capacity of 720,000 kW, making it one of the largest in the country.
In the northern Hokkaido region, which is an ideal site for wind power generation yet faces the challenge of having a weak power grid, these facilities will make it possible to maximize the potential of the region.
Led by Eurus Energy, the largest wind power generation company in Japan, the Toyota Tsusho Group will accelerate its efforts to expand the introduction of wind power and other renewable energies and accelerate its efforts toward carbon neutral.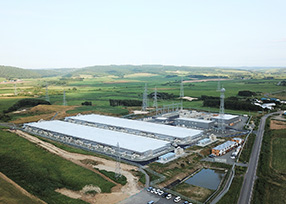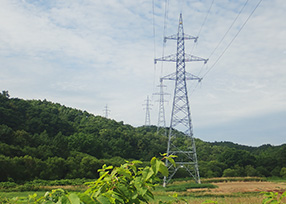 OROCOBRE all rights reserved.
Toward the Realization
of an Environmentally
Friendly Mobility Society
Promoting the Supply of Battery Materials, a Key to the Popularization of Electrified Vehicles
With the popularization of next-generation mobility such as electrified vehicles and plug-in hybrid electric vehicles, the demand for lithium-ion batteries is rapidly increasing.
To address this, Toyota Tsusho, together with Allkem Limited, first began lithium carbonate production at Salar de Olaroz salt lake in Argentina in 2014, and is working to expand the business through expansion of the facility.
We also established Toyotsu Lithium Corporation in 2018 and completed the construction of Japan's first lithium hydroxide production plant in Naraha-machi, Fukushima Prefecture, in November 2022.
Lithium hydroxide is a raw material for cathodes used in automotive lithium-ion batteries, and with the accelerated popularization of electrified vehicles and improved battery performance, demand for lithium hydroxide is expected to grow even more, creating a need for a stable supply.
The Toyota Tsusho Group operates a production business for lithium carbonate and lithium hydroxide, which are used as raw materials for cathode materials and electrolytes in lithium-ion batteries, thereby contributing to the realization of carbon neutrality through the popularization of next-generation mobility.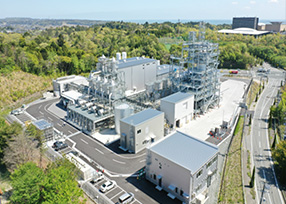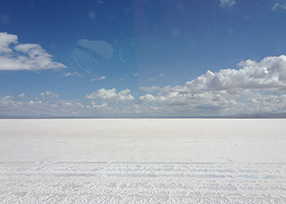 Path to Energy
Transformation in
Logistics Field
Path to Energy Transformation in
Logistics Field
Accelerating the Use of Alternative Fuels in Port Operations, Logistics Scenarios, etc.
In the maritime transportation industry, the greenhouse gas emissions reduction target for 2030 is approximately 17% compared to the 2013 level, and the industry is promoting the conversion of marine fuels from petroleum-derived heavy and light oils to alternative fuels.
Although there are expectations for ships to use hydrogen and ammonia in the medium to long term, due to accompanying requirements such as expensive investments and technological development, biofuel is currently regarded as a viable prospect for carbon-neutral fuel.
Toyota Tsusho began supplying biofuel to car carriers at the Port of Nagoya.
The biofuel supplied is partially derived from waste cooking oil collected by Toyota Tsusho from Toyota Group companies and Toyota Tsusho Group companies in Japan.
Through this initiative, we are building a supply chain based on local production for local consumption and contributing to the realization of a recycling-based society (circular economy).
The establishment of a supply chain and constant use of biofuels that can be used directly in existing internal combustion engines will help promote carbon neutrality in the maritime transportation industry.
From Automobile to
Automobile, Recycling of
Plastics
From Automobile to Automobile,
Recycling of Plastics
Promoting the Reuse of Recovered Resources and Proper Disposal
Mixed plastics derived from automobiles had been incinerated instead of being recycled due to the difficulty of sorting by material.
In October 2022, PLANIC Co., Ltd., a company established in December 2018, began full-scale operations at its Omaezaki Plant to recycle plastics that previously had been incinerated.
The cutting-edge technology, which the company introduced for the first time in Japan, is capable of producing high-quality recycled plastic that can be used as raw materials for automobile parts and other products, and contributes to the realization of car-to-car recycling using mixed plastics as raw materials.
The plant aims to collect approximately 40,000 tons of waste plastic and recycle approximately 32,000 tons a year.
By recycling plastics that were previously incinerated, the plant will contribute to the realization of a recycling-based society.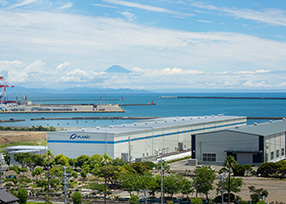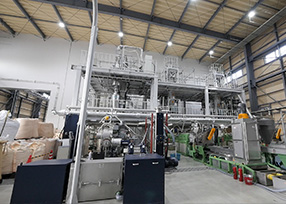 Toward a Society Where
People Can Continue to Use
Plastic Bottles
Toward a Society Where People
Can Continue to Use Plastic Bottles
Promoting the Effective Use of Limited Resources
In Japan, 88.5% of PET bottles sold are recycled, but only 15.7% are horizontally recycled from PET bottles to PET bottles.
In 2020, Toyotsu PET Recycle Systems Corporation was established and started operation in October 2022.
Under the corporate philosophy of "PET Bottles Forever," the company is engaged in the business of recycling waste PET bottles collected in Japan into recycled PET that can be used for beverage bottles.
Through this business, the Toyota Tsusho Group will work to ensure that limited resources are used effectively and contribute to the realization of a recycling-based society.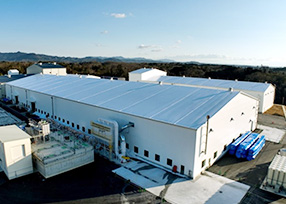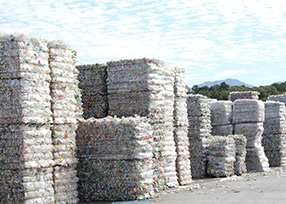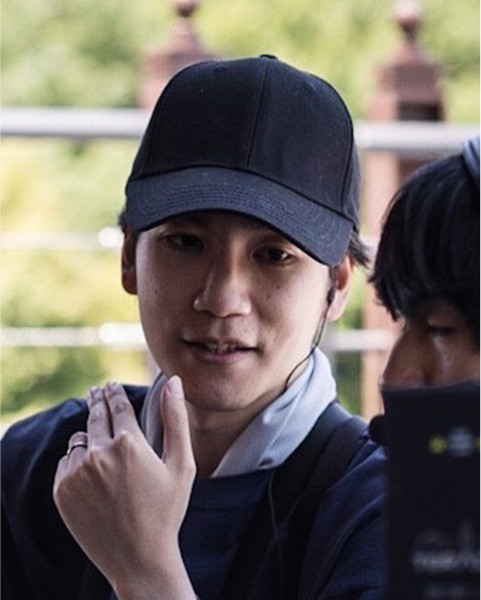 Director/Screenplay
Chiaki Matsumoto
Director/Screenwriter The independent film "Puppet", which he made while at university, was included in numerous film festivals, including the Pia Film Festival, end even enjoyed a theatrical release.
Having worked on various films as an assistant director to Kazuya Shiraishi, he currently writes and directs films and advertisements across various media.

〇 As Director: "Puppet" (2016) / Wrote and directed
〇 As Assistant Director: "One Night", "Silent Tokyo", "The Blood of the Wolves: Level2", "Lesson in Murder", etc.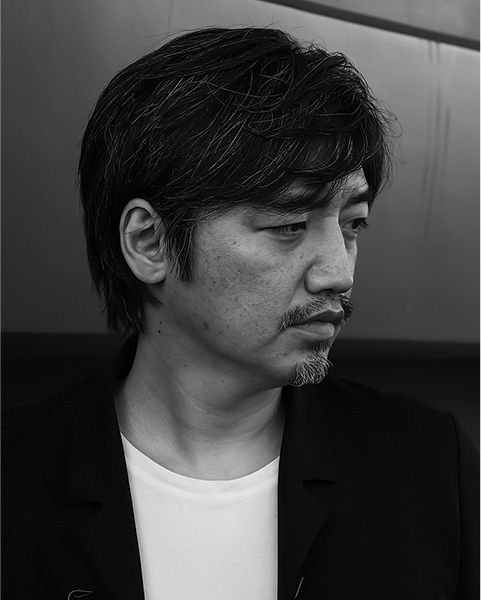 Music
Taisei Iwasaki
Musician His representative works include the movies "Belle", "Moteki", and "Giant God Warrior Appears in Tokyo", the anime series "Blood Blockade Battlefront", "SPRIGGAN", and "Dragon Pilot: Hisone and Masotan", and the Netflix shows "First Love" and "The Naked Director".
He also composed the high school club assignment song "I'm Looking at Me" for the 86th NHK National School Music Competition.
He won the award for Best Music at the 35th Japan Academy Awards for the movie "Moteki".
He also won the award for Best Music at the 45th Japan Academy Awards, and the award for Best Soundtrack Album of the Year at the 36th Japan Gold Disc Awards for the film "Belle".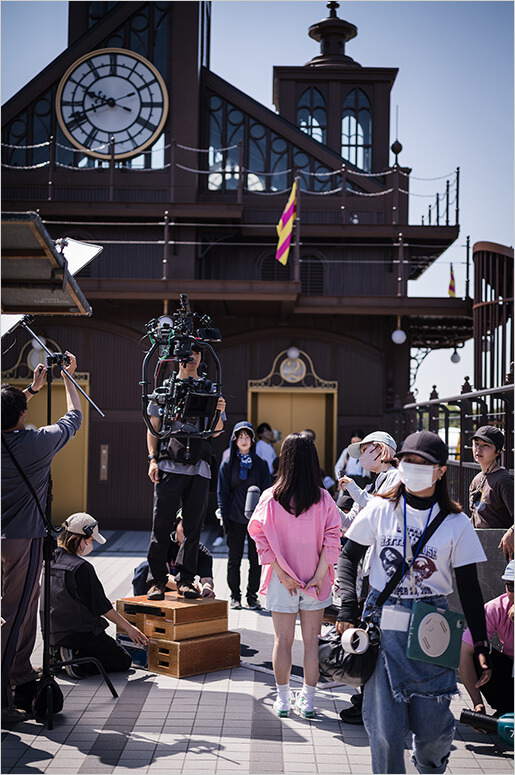 At the "Elevator Tower" that serves as the entrance to Ghibli Park.
The design is based on images from late 19th century science fiction, as typified in the film "Castle in the Sky".
After riding this elevator down, the girl wanders off into a mysterious world.
I work with the director to flesh out my image of the world.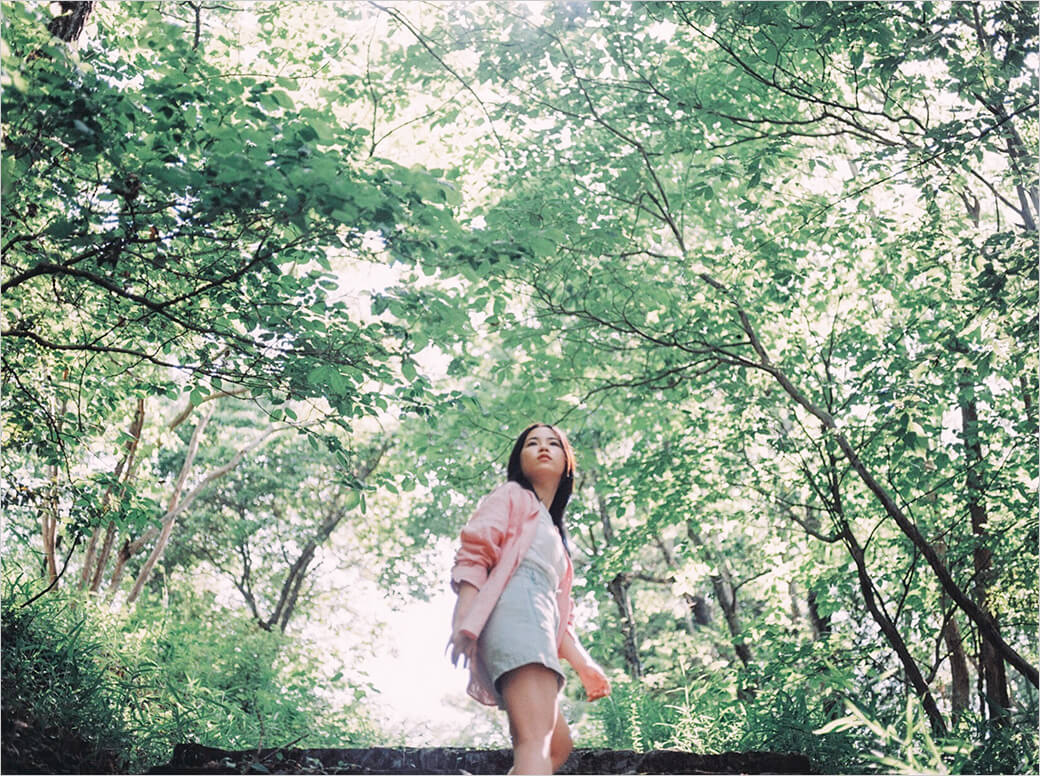 A verdant mountain between "Ghibli's Grand Warehouse" and "Dondoko Forest" where "Satsuki and Mei's House" is located.
We filmed there on an atmospheric staircase.
Taking a short detour from the path connecting Water Area to Green Square.
Running up the slope full of energy.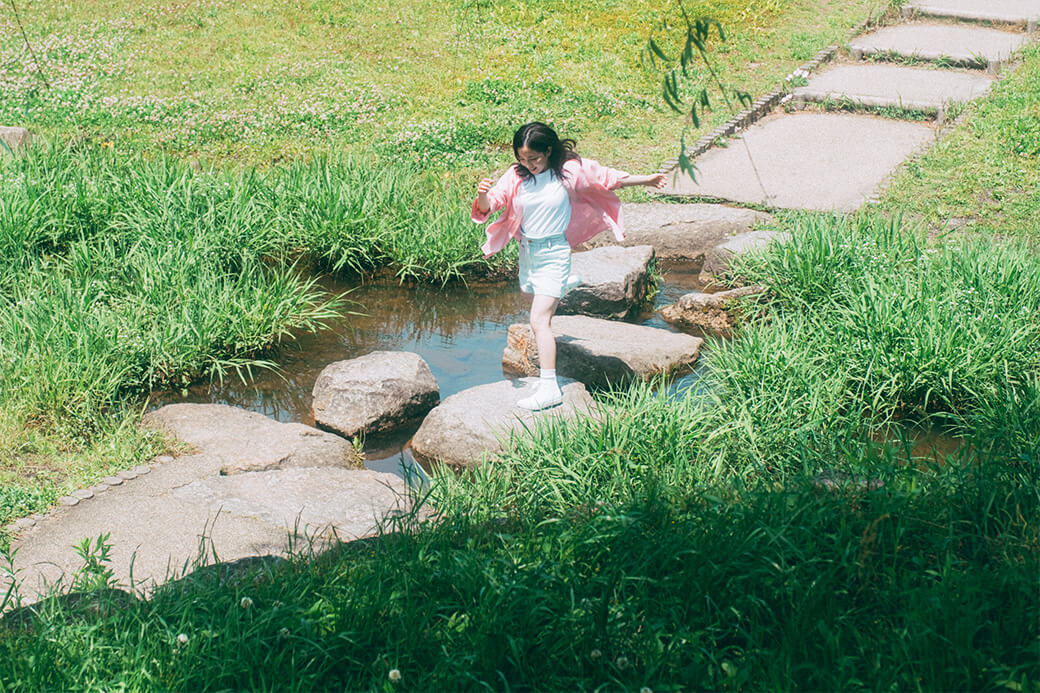 This lotus pond is located in front of "Hill of Youth" where "World Emporium" from the film "Whisper of the Heart" stands.
I leapt across many times, being careful not to fall in the water.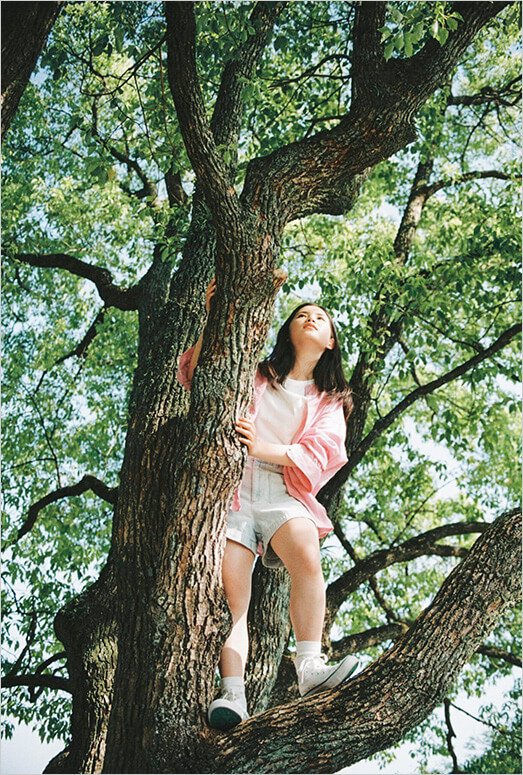 I climbed a tree near the water area.
I'm not so good with heights.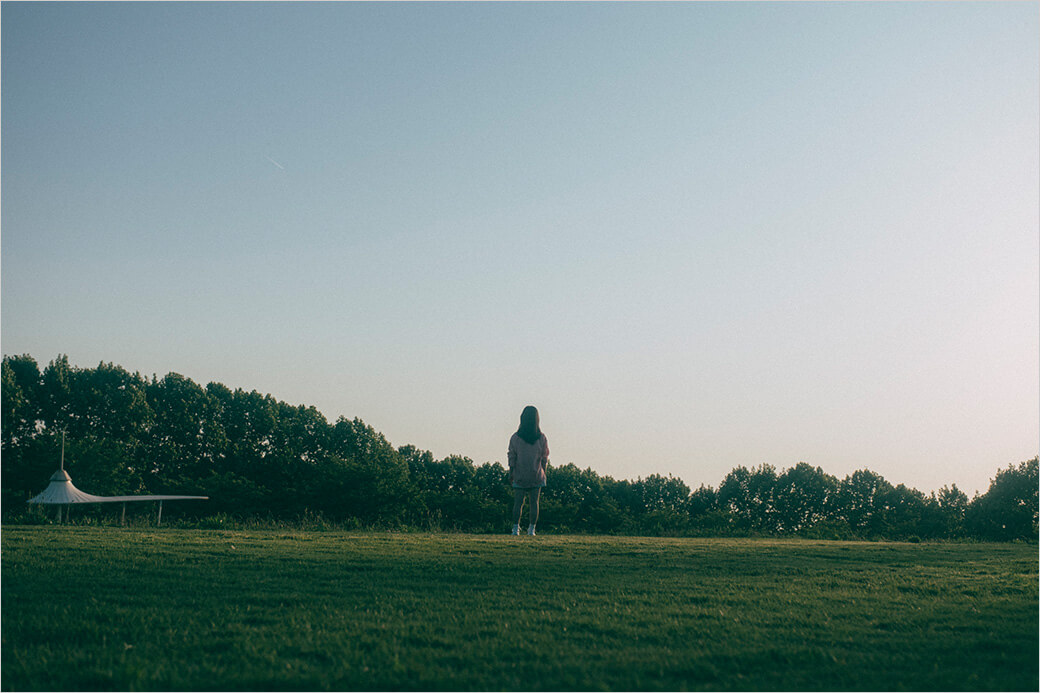 Green Square on the western side of Expo 2005 Aichi Commemorative Park.
The air was clear and the setting sun looked beautiful.